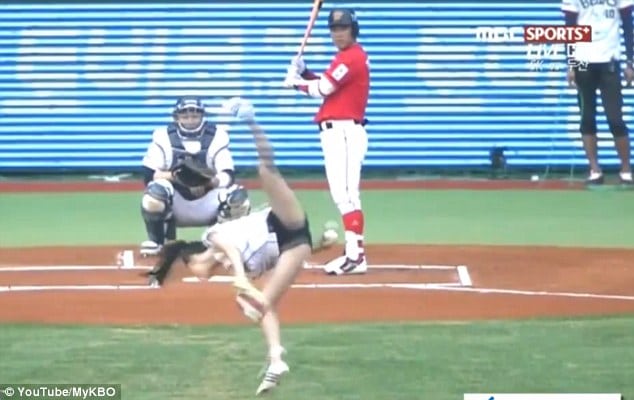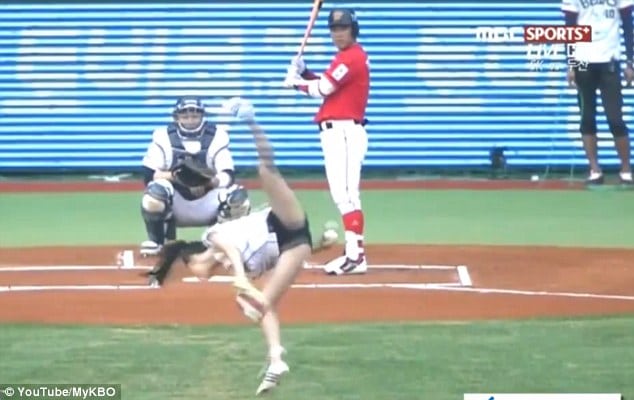 Making delicious headlines is that of South Korean actress, Tae-Mi who has gone on to dazzle fans alike with her acrobatic pitching daring.
It all came about when Tae-Mi who went on to win the World Taekwondo Poomsae Championship in 2007, went on to make her daring pitch for the Doosan Bears game against SK Wyverns in Seoul, Korea.
As the star of the 2011 martial art film 'The Kick' walked away from the pitcher's mound, former Cleveland Indians pitcher Chris Seddon appeared to be smiling in disbelief.
Leaving one foot on the ground, Tae-Mi twisted her body around in a full flip before straightening and launching the ball.
Her dazzling pitch has since gone on to inspire a trend for more daring first pitches, as 23-year-old Tai-Mi proved over the weekend.
The ceremonial first pitch is a longstanding ritual in baseball and usually guest of honor is a dignitary or celebrity in attendance at the game.
Needless to say the commentators gushing in the background had me packing for heat  as well…. can anyone figure out why?