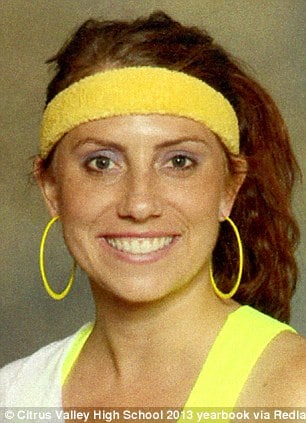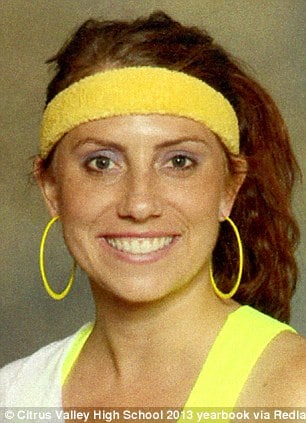 A second former student has stepped forward to allege that they too had sex with a teacher who recently went on to give birth to a child after becoming pregnant to a 16 year old student.
The second boy, Michael Cooper, only stepped forward after discovering the news of Laura Elizabeth Whitehurst, 28 who had been arrested upon giving birth recently.
Police have since alleged that Whitehurst gave birth to a child that was fathered by a 16-year-old student that Whitehurst met while acting as his adviser at Citrus Valley High School. They allegedly would go on to have a year-long relationship.
The second victim, Michael Cooper, now 23, said he visited the teacher's home several times while she taught him English at Redlands High School in 2007. At the time Whitehurst would have been 22.
According to the Redlands Daily Facts the now 22 year old student went to tell about a class assignment which involved writing about their dreams. Whitehurst told him that she had dreamed of kissing him.
He said that it led to a sexual relationship and he visited her home.
Reflects the now 22 year old former student:  'I don't think I was taken advantage of. Morally I feel like I shouldn't have done that, but at the time I was like, "Woohoo, this is awesome".'
The 22 year old goes on to say that he has filed a police report but also told authorities that he does not wish to press charges.
Told Redlands police Detective Natasha Crawford: " Whitehurst for her part acknowledged that they did have a relationship but not to that extent." 
Since her initial arrest this past Monday in connection with the 16 year old minor, Whitehurst faces a charge of unlawful sexual intercourse with a minor. She went on to be released from jail after posting $25,000.
According to the Redlands Police Department, Whitehurst's underage lover was 16 years old during their year-long relationship, which allegedly started last summer. Whitehurst would go on to give birth to the boy's child June 18.
The mother of the alleged victim, who is now 17, became aware of the affair between her son and his teacher and notified the Redlands United School District, which in turn contacted police.
Since her arrest Monday evening, Whitehurst has had her employment contract terminated.
Told Assistant School Superintendent Sabine Robertson-Phillips: 'Nothing is as important to us as the safety of our students and the District takes this arrest very seriously. We are fully cooperating with police in their investigation of this matter.'
Then there were these comments on the web that made me wonder as well:
One wonders about the psychological kick she was getting, abusing her authority and trust of the child, attaining a feeling of superiority over the boy that she perhaps was unable to find in her own real life outside of the classroom….
 Should not happen at all. Just think this boys life changed with this. He is s 16 year old boy who is still beginning his life. Should not have to be dealing with something like this at his age. He should be enjoying his youth and preparing for college and could start his own family when the time is right for him. There are those who think boys like it and many comment on how they would have liked for something like that to happen to them. Well maybe so but not every boy wants to be in a situation like this. Law needs to come down harder on these woman. The laws are tough on men that do this and they should be just as tough on the woman that do this as well no excuses.