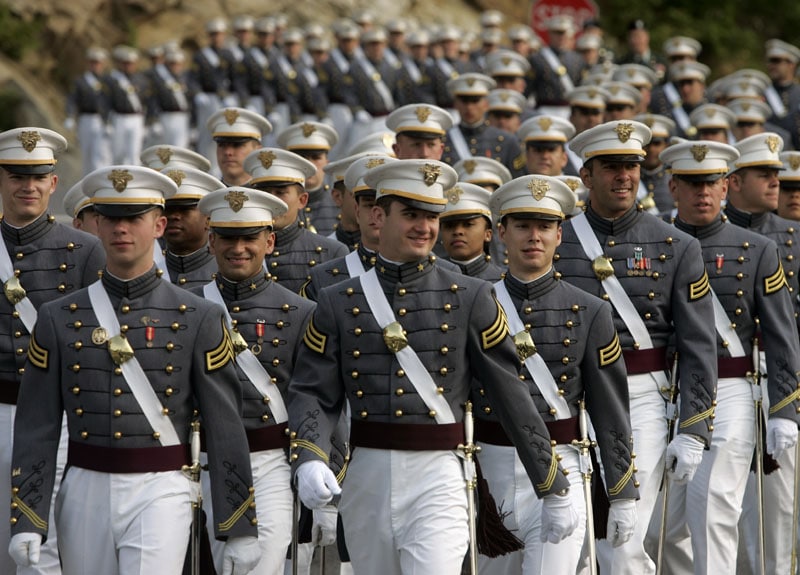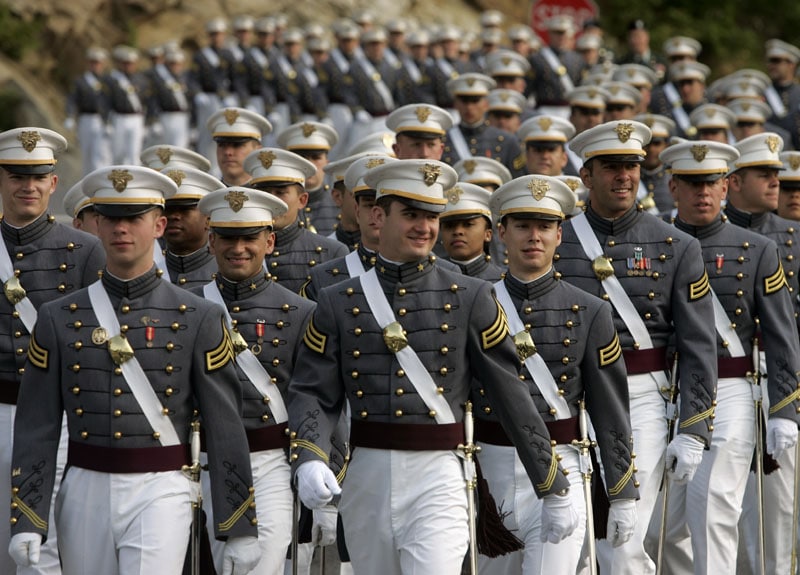 Last month 15 senior West Point cadets were charged with violating multiple disciplinary codes for forwarding emails detailing the sexual "highs and lows" of the elite academy's rugby team. They graduated and became U.S. soldiers after 8 days of hastily condensed discipline.
Nevertheless the emails continued to circulate either because they made for delicious reading material or simply because on some level they exemplify prevailing attitudes among military men towards men. You be the judge as you read the following email that landed in jezebel's hands who took the liberty of highlighting choice passages and fun key words as you are about to see for yourself:
[cadet] put the team on his back over thanksgiving. He and [cadet] killed a 24 pack in 2 hours before the umass game. Then he got his dick touched by some rando skank from the hotel lobby he met 15 minutes earlier. Although failing to stick it in is grounds for Bubble territory [ed: "Bubble territory" is on the bubble of being a "low" for the week, a bad thing, obviously] he rallied … The artist formerly known as Virgin got nudie snapchats from the girl the next day. Plus he acted like he was asleep while [cad[cadet] a blowie from his girl in their room. HE HEARD EVERYTHING (although [cad[cadet]ntually admitted he knew [cad[cadet] awake at the time, too)
Apparently everyone's favorite socially retarded center [cad[cadet]dbutted a dude over thanksgiving and broke the fags nose after he tried to stop [cad[cadet]m hitting on a girl. Word.
dancing in a cage after having a butt plug in for 9 hours is the tight thing to do. and he made out with trou. [der[derogatory term for a female cadet]ppy trou. Or it might have been a girl [cad[cadet]ked but im not sure. Actually it might have been [cad[cadet]l'ss roommate, who used a vibrator in [cad[cadet] ass and proceeded to put that same vibrator in wardo's mouth. Word on the street. just check the lipstick stains.
The Yuks [re:[re: sophomores on team]u guys fucking suck. "But why!?" you question. It's cause you are a bunch of individualized bitches. None of you rage together or have tight stories. It's past time to come together as a class and get a fucking identity instead of letting some of your tight individuals (like [cad[cadet]all the heavy lifting. Just kidding. [cad[cadet]ks.although you do have some solid individuals. The plebes [re:[re: freshmen on the team]e been here for less than a semester and are already a tighter group as a class than you are. Being on this team means being a Brother. Start acting like it.
[Cad[Cadet]parently this fuck wrote his own highs. Like what the fuck. The only thing I would be more concerned about is [cad[cadet] branching Korea or someother fucking ching chang place.
[nam[name of female cadet and Cadet A's girlfriend]parently [Cad[Cadet] girl thinks she can call out [cad[cadet teammates referenced]fucking twitter. The only thing she can call out is her own name as she fucks [Cad[Cadet A]the ass with an 8″ black strapon. [Cad[Cadet A]t your girl on a leash. Or take the one off she has on you and be done with it. Either way we don't follow her so fukc her.
not only is the fuck a product of his mothers tit, he was homeschooled by her and breastfed until sophomore year of high school. She taught him how to masturbate correctly and demonstrated on a sausage. She also showed him how to deep throat. Because hes homeschooled…This asshole rolled into the trainers' … office wearing a chain around his neck. Dog tags? No only fags wear those.