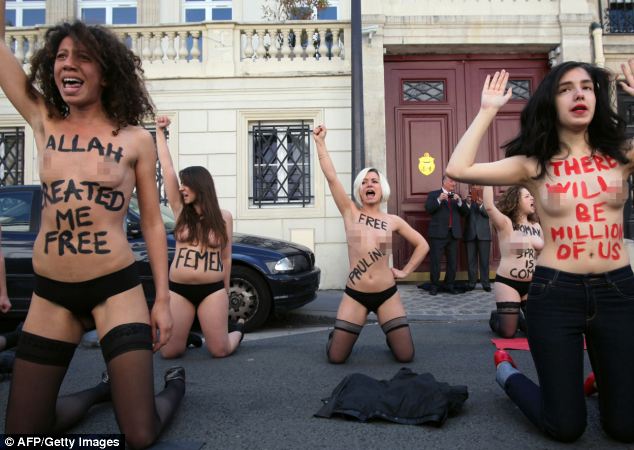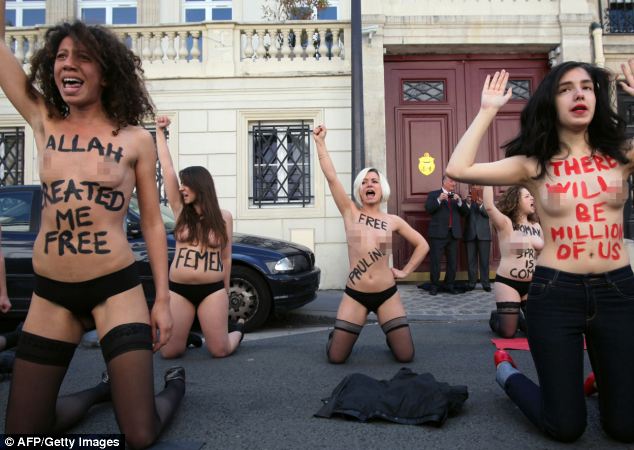 Femen: First topless protest in Islamic state leads to arrests.
In a show of solidarity, Femen activists members took to the streets outside of the Tunisian embassy in Paris, France to show their discontent pursuant to the recent arrest of three Femen activist members in Tunisia who dared to go topless with feminist slogans protesting the recent arrest of a local woman, Amina Tyler (also known as Amina Sboui) who had dared go topless on the internet.
The three women arrested recently include Pauline Hillier, Marguerite Stern and Josephine Markmann, all members of the protest group Femen who were arrested when they chose to appear topless outside the Tunisian Palace of Justice.
To date the trial of the three women in Tunisia has been opened and adjourned until next week. The women tell local authorities will remain in custody, a decision which was denounced by the women's lawyers.
The postponement comes after requests by Islamist groups to be listed as parties to the prosecution.
The three face charges of debauchery, public indecency and being a threat to public order which carries a potential six-month jail term.
Amina Tyler who caused initial ire with topless postings including scrawls 'My body belongs to me' written across her bare chest in Arabic today appeared before an investigating judge who has yet to judge whether the Tunisian woman will face charges of public indecency.
Upon her initial feat the woman was taken into hiding by her family after conservative preachers issued death threats against her.
She later attempted another protest on May 19 in the religious center of Kairouan, before being arrested.
Protesters in Paris today had gone on to scrawl slogans on their naked torsos which included the following: 'Allah created me free', 'there will be millions of us' and 'woman spring is coming,' in reference to a revolution of women's rights similar to the Arab Spring.
The trial of the three European women in Tunis is now due to take place on June 12.