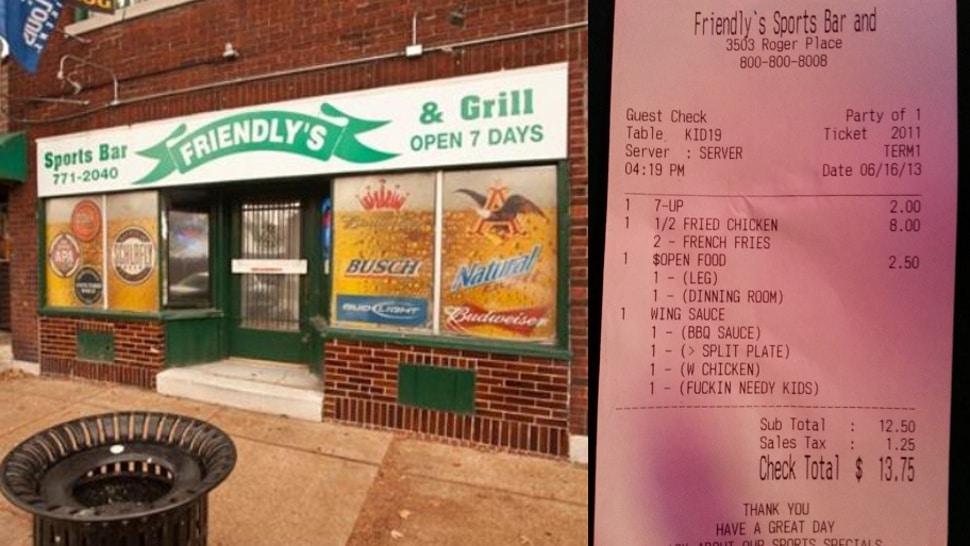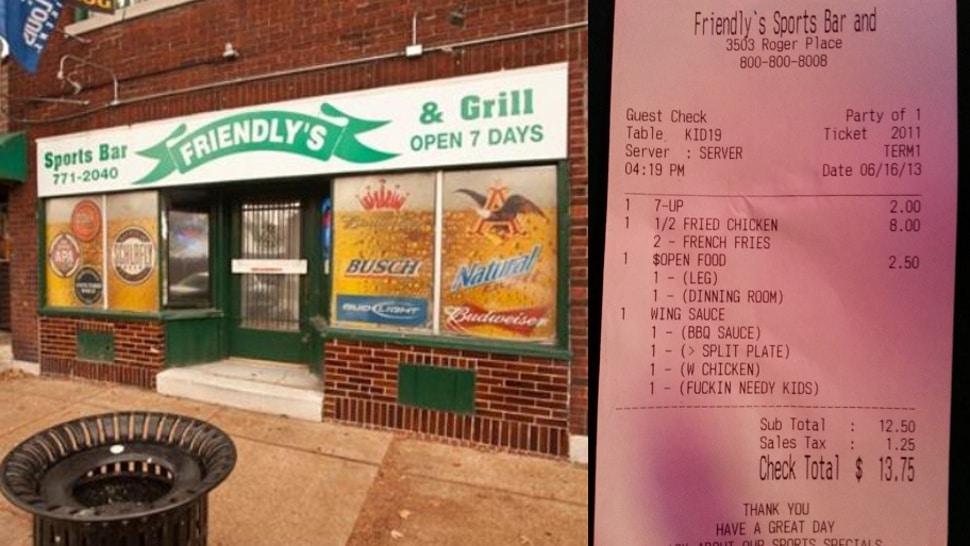 Joseph Gibson's  father day outing this past weekend was ruined after a waitress handed him a bill receipt that had gone on to charge him for having "fuckin' needy kids."
The fracas came to pass when Gibson called out in advance says to make sure he could bring his 4 year old son to 'Friendly's restaurant,' a downtown St Luois sports bar, despite the venue's strict policy of admitting only customers above 21 years of age.
 Told Denny Domachowski, the restaurant's general manager: "Normally, we don't let anyone in who's under 21. But the guy said he was with his kid for Father's Day and they were just leaving the (Missouri) Botanical Garden, so I said 'Sure.'"
After ordering a fried chicken dinner for himself, Gibson asked his waitress if she could add an extra chicken leg for his toddler son.
The meal tells Gibson was pleasant enough, but when it came time to settle the tab, the father noticed an extra item tacked on his bill: "1 FUCKIN NEEDY KIDS."
Hmm, that tastes delicious right kids?
Domachowski at that point went on to explain that the waitress had made a joke for the kitchen staff's eyes only and had simply(naturally) forgotten to delete it before printing out Gibson's bill.
Nevertheless that shit didn't sit well with Joseph Gibson who went on to write the following on his facebook wall.
"So customers with children are a joke? This place isn't so friendly."
Domachowski has since explained that he has apologized to Gibson twice, and has "made sure" the waitress understood that what she did was wrong.
But Domachowski also stuck up for the employee, telling CNN she "didn't mean to offend the gentleman and his son," and was "just in a hurry and forgot to take that off."
He added that Gibson was "making a mountain of a mole hill" before acknowledging that he "wouldn't want anyone calling my granddaughter, who is four, that."
Joseph Gibson said he understands 'accidents can happen, but you can also do things to prevent them'.
'If it happened to me, it could happen again,' he said. 'What else are they writing about other people?'
Which of course raises the interesting question, what else are 'Friendly's' restaurant saying about their customers before accidentally forgetting to wipe away that tawdry stuff on the bill receipt?