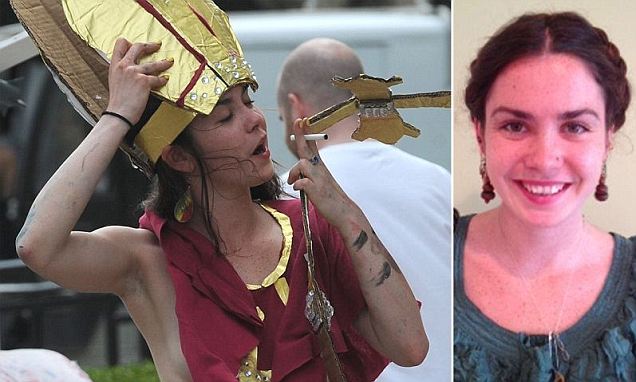 Carnegie Mellon Student Katherine O Connor arrested for dressing as the pope and being naked waist down.
Charges have been dropped against Carnegie Mellon University student, Katherine O'Connor after she was earlier arrested last month when she took to campus with  fellow student, Robb Godshaw purportedly to protest against the Catholic's church's interpretation and role of female identity in society.
The charges are said to have been dropped after Katherine O Connor reached an agreement with prosecutors to perform 80 hours of community service after she appeared semi nude in a Catholic pope uniform. Fellow student Godshaw also elected to choose the same disciplinary terms.
President Jared Cohon of Carnegie-Mellon, responding to a protest by Pittsburgh's Bishop David Zubik, said that the university would uphold the students' right to free expression and would not take disciplinary action apart from the indecent-exposure charge.
The charges are said to have come after Bishop David Zubik of the Roman Catholic Diocese of Pittsburgh complained privately to school officials about Katherine  O'Connor's performance, then publicly expressed concerns that her behavior was intolerant of Catholicism. Zubik was particularly upset because O'Connor had shaved her pubic hair in the shape of a cross. Indeed.
Told diocesan spokesman, Rev. Ronald Lengwin: "Our concern from the very beginning as articulated by the bishop was a lack of respect for the religious beliefs of others. I hope this will be a learning experience for this young woman. Now that community service is a way in which she can expunge her record, the bishop hopes that, too, would be a learning experience."
The American Civil Liberties Union has gone on to say it was important that the criminal charges be dismissed against the students because they could have been listed as sex offenders in some states had they been convicted. O'Connor's lawyer also went on to express chagrin that the school initially supported O'Connors right to express her views as she saw fit only to find that the school backing down and coalescing to the church once criminal charges were suddenly drawn.
Ultimately one is inclined to wonder if Katherine O' Connor's freedom of rights to protest were jeopardized?