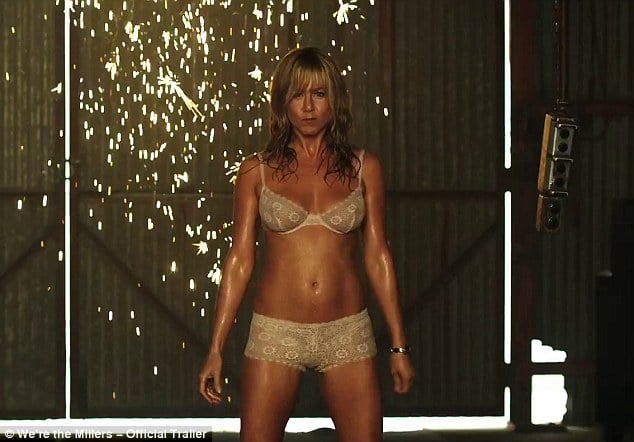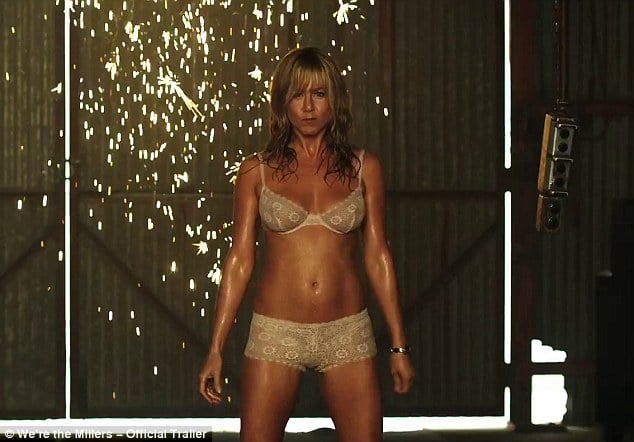 In a new peekaboo for upcoming film 'We'e the Millers,' 44 year old Jennifer Aniston shows viewers that she's certainly holding her own and then some as she shows off her rather pert derrriere and lean physique.
Wearing a see through lacy lingerie, Jennifer Aniston takes us all on a giddy adventure as she gyrates to the good shit and our collective tongues wag in appreciation. Yes Jen, mine is still wagging and lagging and I have to put into remission whilst the salive seeps back in.
In the film Jennifer Aniston plays a stripper(don't we all) in opposite Jason Sudeikis, where she is seen slapping her bottom while performing a strip tease to Mickey Avalon's 'Stroke Me.'
The film, directed by Rawson Marshall Thurber, is about a pot dealer (Jason) who puts together a fake family as he attempts to smuggle a large shipment of marijuana across the Mexican border into the U.S. But really the film is about Jennifer Aniston is showing us all why she still has it and why after so many years being in the public realm she is still the bankable media whore that we all wish we could be for ourselves.
Pert and yummy at 44? Sure I'll take that snack all day long bixches…