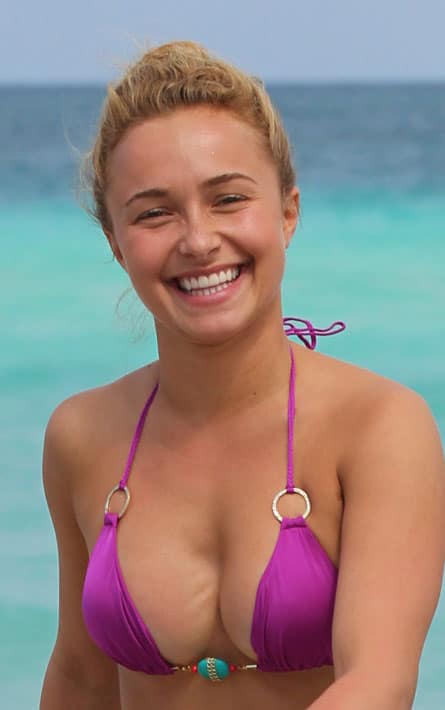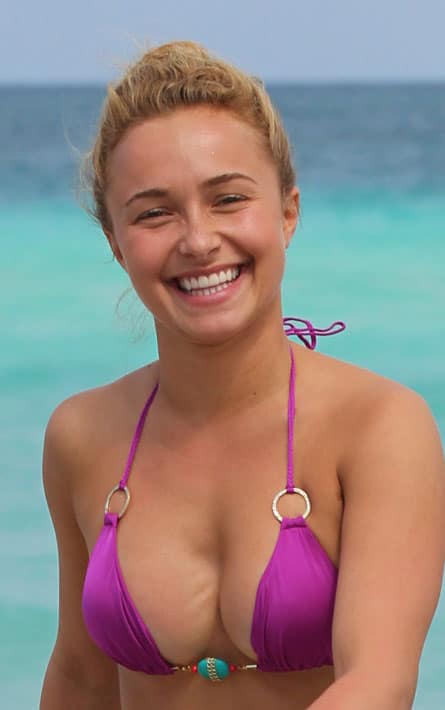 Hayden Panettiere prefers dating athletes. Can you guess why?
Oh dear, who can not but love Hollywood trinket Hayden Panettiere as she goes waltzing along white fluffy sand dunes and along our collective imaginations?
That said a little whisper has been let out that Hayden Panettiere isn't necessarily all that she makes out to be. Point in case, her noticeably fake breasts which are screeching to have the air let out of them.
Explains Michael K of dlisted: Hayden Panettiere spent her Easter Sunday frolicking on the beach in Miami without her hot beanstalk-sized fiancee. Watching Nashville (a wet layer of shame covers me every time I type those words) made me like Hayden Panatroll, so it hurts the nipples on my soul seeing her chichis look like they could win the grand prize in a Tori Spelling's Tits look-alike contest. Hayden's giant fiancé should raise his knee and stomp on the office of the plastic surgeon who made it look like she's got ten handfuls of Ruffles stuffed into her chest. I should not look at Hayden's tits and say, "Oh, so you got The Tori?" This is gnome abuse and it ain't right.
Abuse? No Michael, this is just par for the course and we all just ought to get used to it. After all who are we to say what works for Hayden or anyone? Everyone has their pet make believe (I like to look at my ball spot with a rear view mirror and pretend it's still me back in 1993- but that's an illusion I reckon I am entitled to).
Tweeted our little vixen over the weekend: "Obviously having a terrible time."
And this too: "Sun burn remedy #bagofice #dontrunoutofsunscreen."
Hayden don't you worry, you're still the collective preferred hawt bixch you know yourself to be… blah!