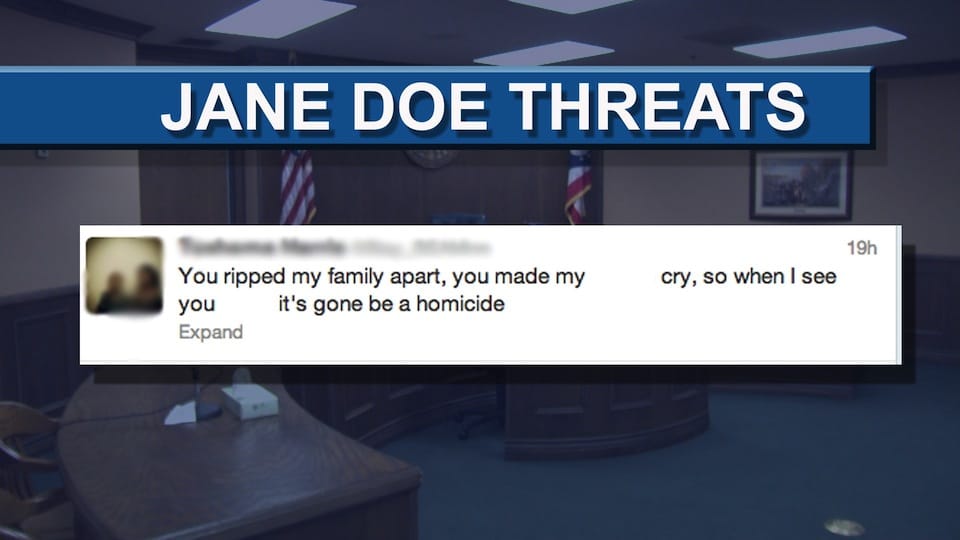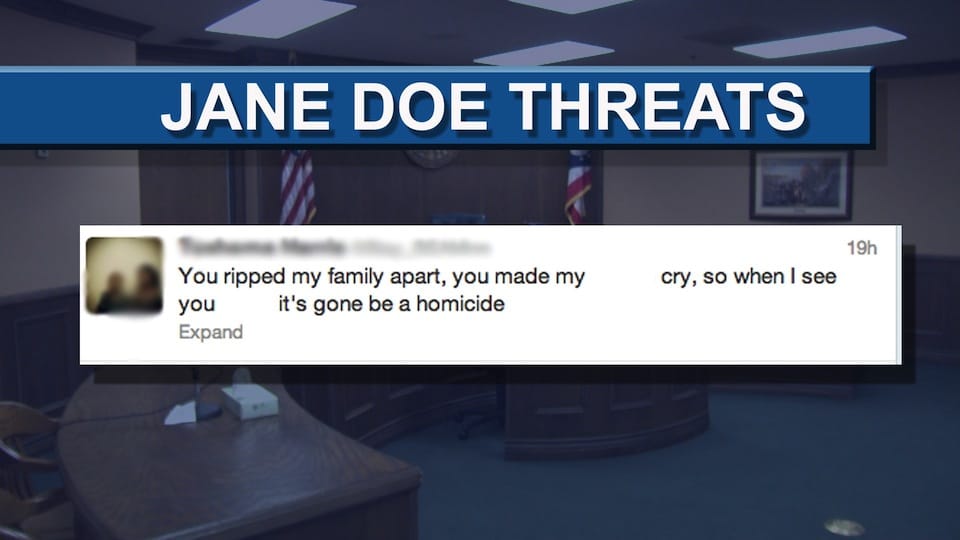 Because it's always a rape victims fault…
In ongoing developments in the highly charged Steubenville rape case two teenagers have now been arrested yesterday afternoon after using social media to issue death threats against the victim at the center of the rape case.
Tells gawker: The teenagers arrested were 15 and 16-year-old girls, and one was apparently a relative of one of the convicted rapists. Jefferson County Sheriff Fred Abdalla said one of the teens turned herself in to authorities while the other was arrested elsewhere. State Attorney General Mike DeWine said in a press conference that the 15-year-old made her threat on Facebook and the 16-year-old's was made on Twitter. Both girls are being held in Jefferson County Juvenile Detention Center and are facing charges of aggravated menacing.
Steubenville Police Chief Bill McCafferty confirmed the arrests to WTOV Monday evening.
How odd and yet sadly predictable that now even the young woman in question is now being vilified by other girls. One has to wonder what this suggests about the stigma of being a woman, a woman's ability to accept her role and perception in society and why even some women choose to negate other women?
Aren't you glad being a woman now means being able to hate yourself and other women too? Or does it?
above image via gawker
Reflected one commentator on the web:
Women, on the other hand, are so wrong-headed sometimes, it defies imagination when we see how catty they can be towards each other, how they will sell-out their OWN sex just to score points. Women will hate on other women for the sake of being taken more seriously by some men.
This is an unattractive characteristic of my own gender, I'm sorry to say. To any woman who says she's not a feminist, I say……then you're uninformed & moreover, undeserving of the moniker: WOMAN. If YOU don't support your gender, no one else will. And I mean that literally.    
Steubenville rape verdict finds players guilty. Weep in court.
Steubenville rape case leads to shock text revelation.
Steubenville rape case defense to argue implied consent.
Steubenville investigators believe second rape occurred. 14 year old girl identified.
Steubenville rape case charges may be dropped and the trial moved?
Steubenville high school student apologizes for posting rape picture. Denies wanting revenge.
Steubenville rape now turns up photos of two new women semi naked. More victims involved?
Steubenville rape witnesses may now still face criminal charges. Internal disarray?
Steubenville rape witnesses urged to come forward. But is it wishful thinking?
Steubenville rape witnesses still refuse to cooperate. But why?
Steubenville rape case leads to Anonymous releasing new video of intent.
Steubenville rape case leads to guards protecting school. Death threats made….
How Steubenville High will force a change in whether we accept rape or not?
Former Stebeunville High school student Michael Nodianos not facing charges. But should he?
Steubenville High school rape video teen is desperate to be forgiven. Death threats galore…
Steubenville high school rape charges cease. Angry mobs protest.
Steubenville High school rape case leads to new Anonymous leaks. New names…
Steubenville High school leaked video now leads to demands for Michael Nodianos' expulsion.
Steubenville High school students joke about rape in video leaked by Anonymous.