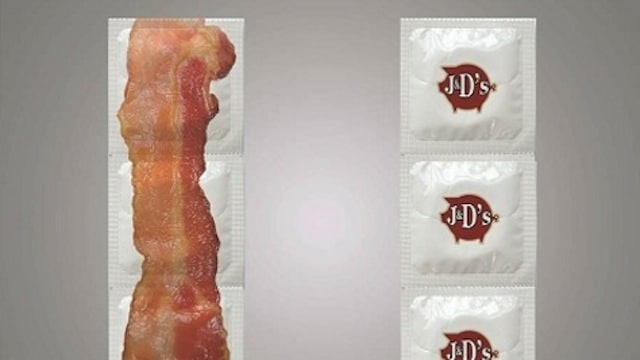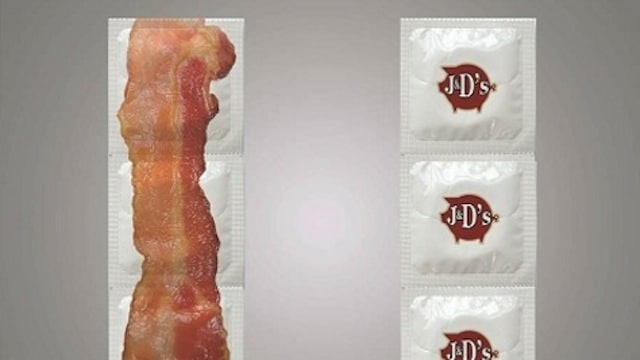 Kids here's something you ought to consider next time the jizz mood sets you in- bacon flavored condoms.
latimes: J&D, the guys who brought you bacon shaving cream, have released bacon condoms. Each has an image of bacon on it all the way to the end. And if that's not enough bacon love for you, the condoms are filled with J&D's "baconlube," a water-based meat-flavored personal lubricant.
Hmm. Scrumptious. Literally right? Might be a go ahead for all you bacon fans out there. Why go out for dinner when you can have simulated dinner and the good shag on tap?
The maker assures all you budding bacon sex maniacs out there that the shit is made in the US and that their little wonders "have been rigorously tested to help ensure reliability and the utmost security."
And how has demand been so far for this new novelty?
Well apparently the shit is flying out the window as supply has not been able to keep up with demand. Which is telling me in a round about way that this is next the cultural phenomenon we should all be embracing.
Personally I'd be curious to see how jalepeno flavored condoms would sell. Of course that shit would probably sell out too as no one can seem to resist hawt and kinky anymore.
The condoms are sold in packs of three for $9.99 and can be found here at BaconCondoms.com. Each pack comes in wrappers and a box that are both printed with images of bacon. Happy foreplay and other endeavors kids….
Because everything tastes better with bacon….
above image found here