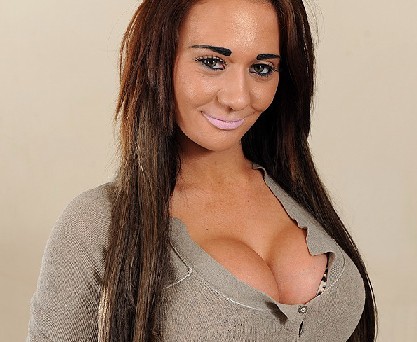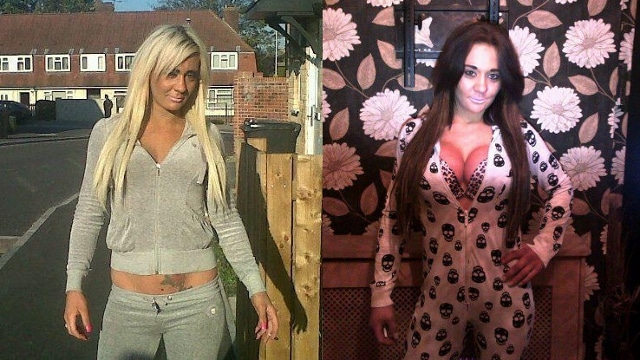 Josie Cunningham of Leeds,UK is the talk of town today after news of her scoring a breast job courtesy of the UK's state fund health service on the grounds that she was emotionally distressed.
Told the aspiring glamor model to the UK's sun who was experiencing bouts of depression on account of her being flat chested :
"My new boobs have changed my life, now I want to be the new Katie Price."
Continues Josie who until her operation felt less than whole:
"My GP referred me for the operation because I wasn't just flat-chested — I didn't have any boobs whatsoever.
"I could never go on holiday as I lived in terror of ever being seen in a bikini and could never set foot outside without a padded bra.
"The doctors said they'd never seen anything like it and believed me when I burst into tears and told them it was ruining my life."
And what new breasts Josie has. She has since gone from a size 32A to 36DD.
Reiterates Josie: "My new boobs have changed my life. Now I can't wait to do topless and swimsuit photoshoots and become the new Katie Price."
Nonetheless not everyone is pleased with Josie's new operation, with many critics having gone on to lambast Josie's operation as a waste of tax payer's money.
Some have even gone on to wonder if the operation was really just a vanity exercise. Locals have gone on to nick name her 'Katie Cut-Price.'
Matthew Sinclair, chief executive of the TaxPayers' Alliance, said: "This is a waste of NHS cash and taxpayers will be stunned that they have been landed with the bill.
"The NHS is there for people with serious medical needs, not as a means of helping wannabes who fancy a career in modelling. NHS bosses must not allow the system to be manipulated by people wanting cosmetic surgery merely to enhance their career prospects."
Reiterates Josie: "I want the world to see the new me and want money and fame just like Katie — and my new boobs can make it all happen."
Josie who admittedly has aspirations for the high life despite her modest 9000 pound  ($13 700 US) annual telesales income has also now come to believe her new breasts may accede her a type of lifestyle and glamor that she aspires to.
"I don't earn much, but I think I will get used to living the high life very easily.
"I already have showbiz connections as my friend's boyfriend was a contestant on the Apprentice and I've been to clubs like Trader Vic's and to the Dorchester Hotel.
"I've even started to collect Louis Vuitton handbags and have ordered a chihuahua puppy. The sky's the limit now I've got my new boobs — and I can't thank the NHS enough for giving them to me."
Josie confessed: "I was never depressed about my flat chest and wasn't teased at school about it.
"I just got emotional when I was explaining to my GP that I felt I couldn't live a full life the way I was — and he agreed to refer me for implant surgery.
In the end Josie may have a point, given society's expectations for what passes as muster but then again one may be prone to wonder if the real problem here isn't the size of Josie's breasts but her simple ability to simply accept herself for who she is?
Then again that might be a tall order in a world which constantly reminds us that one is never complete or worthy unless they approximate certain yardsticks and unfortunately for most women, looking like a bronzed, lob sided Barbie doll is what life has all in store.
top image via gawker