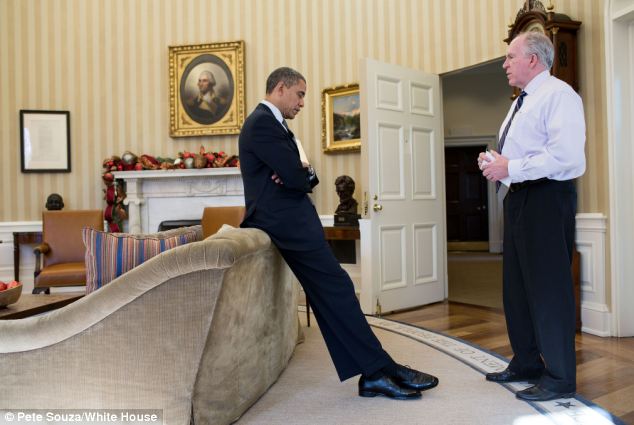 Newspaper apologizes after caught running gun ad and article about Sandy Hook Elementary school resuming.
Making the rounds this morning is the above picture of President Barack Obama as he is first being told back on December 14, 2012 about the Sandy Hook Elementary school shooting massacre.
In the picture, a forlorn Obama sits perched against a sofa in the Oval White House as his deputy national adviser John Brennan shares with him the bad news.
The picture conspicuously has been released a day after children and teachers returned to the school after gunman Adam Lanza laid his havoc. That said commentators are now wondering if the picture is just a cynical attempt to portray the president in the best light, as he now takes aim in crafting gun laws which may prove to be quite unpopular with a constituency which has already begun to express its reticence about any new gun laws that may follow pursuant to the senseless massacre.
Reflected one commentator:
How can a photographer be in the Oval Office, next to the photographer, at that specific moment? What are the chances? As his administration says it, never let a crisis go to waste. This man is absolutely a horrible human being. I am disgusted beyond belief.
Either way the White House may be just trying to portray the President's concern and assuage voters that he is human and very aware of the senseless activities that sometimes go on, nevertheless the question now remains what and how will the President react to the increasing avalanche of senseless shootings that have gripped the nation? A photo says a million things, but actions say a million more things too….