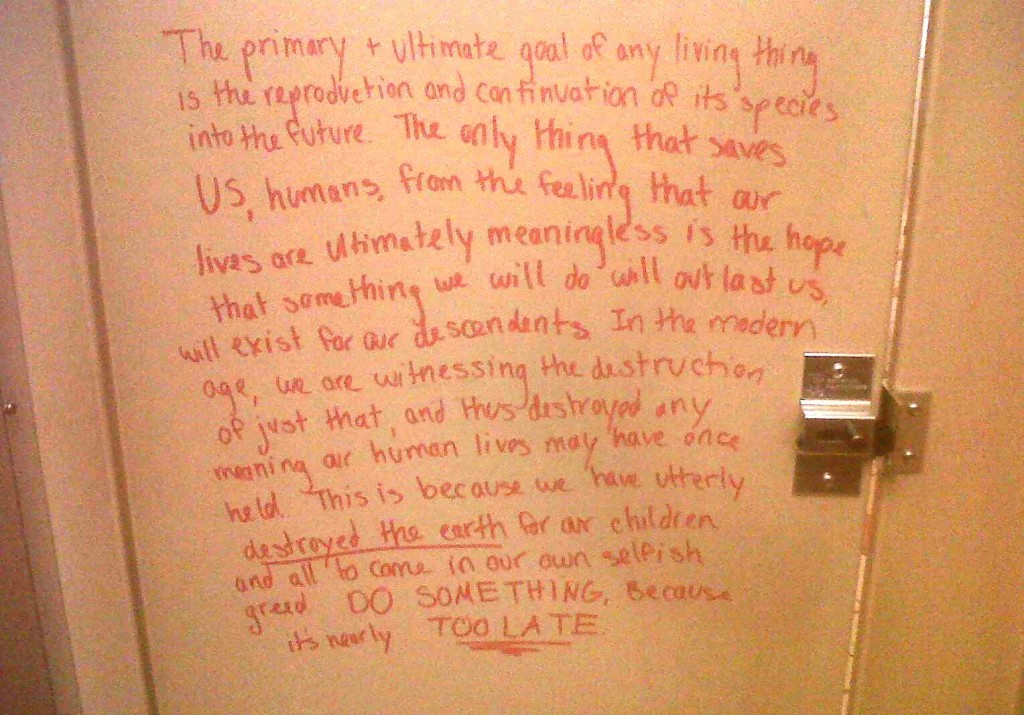 A reddit user has posted a note that she came across at her school's bathroom stall in which an anonymous individual took the time to comfort girls who have found themselves raped, assaulted and or sexually violated.
Offered the note: To the girl who was raped: you are so strong. I cannot fathom the pain you must have gone through. The fact that you have the bravery to write it (even on a bathroom wall) gives me hope. To the girl witheating disorders: I promise you, although I don't know you, you are beautiful, you deserve your health. You deserve freedom from that hell. To the girl with the alcoholic father. I am so sorry for the agony it must cause. again, such courage is remarkable you must be such a strong person to see such pain. To the girl whose father died: Missing them never goes away. The ache of their absence never goes away. ut the love they had, the memories you share surely must last. I am sure, out of the ottom of my heart, the people who have left you in this world are exceptionally proud of the person you are. Everytime I see these walls, these confessions, I feel so blessed to know I have the priviledge of seeing them. Your moments, these secrets, are all precious even though they are sad. To all of you (including those I did not mention, and those who have not yet written) -You are worthy. -You are strong. -You are brave. -You are loved. -Somebody cares.
The bathroom stall understood to be a repository for comments by other students featured the note in which an anonymous individual took the time to acknowledge girls who had complained about a variety of issues, including an alcoholic father, an eating disorder, struggling with being a rape victim and feelings of grief.
At present it is not known which university the note was taken from.
And then there was this reader's reaction that really made me sit up and take notice….
I work in a university setting and people have NO clue what these young folks are dealing with. Every one of them is struggling with something because they are young, they feel they have to endure, to carry on; they are afraid to share for fear of shame and appearing to have let their lives get out of control. Nor do they want to exploit themselves like so many of our celebrities do, with their "tell-all" no-holds-barred lowering of their privacy boundaries. The fact that these girls are writing anonymously on a bathroom wall underscores how profoundly afraid they are to tell of their struggles and afraid to have their confessions attributed to them. I love what this person did. Had I done it, I would have also included the phone number and location of the campus counseling center and crisis line. Ours is aMAYzing. But most of all, these students need affirmation that they are worthy human beings despite their environment. Kudos and blessings to the angel who left this note.
above image found here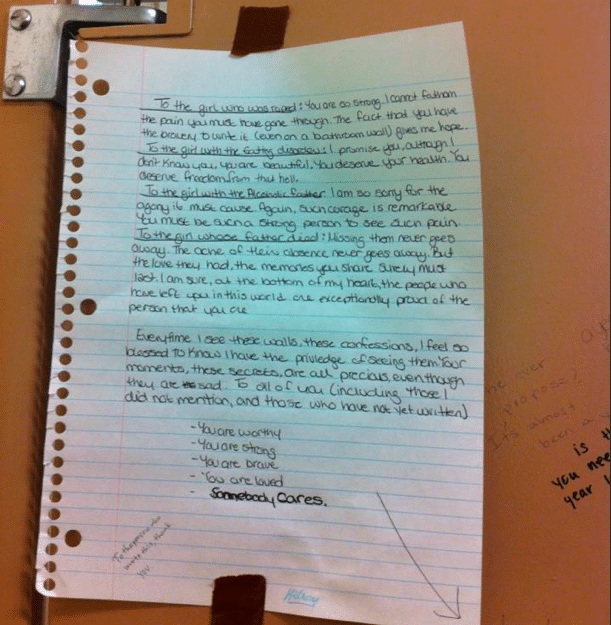 .