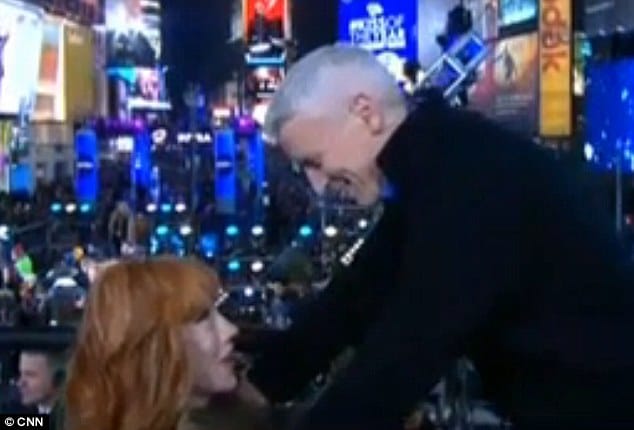 Kathy Griffin will do as she pleases thank you very much.
Whilst CNN might be chaffing at the collar pursuant to Kathy Griffin's on air tactics which saw our collective hero simulating oral sex on CNN actor Anderson Cooper's private parts during a live telecast leading into the New Year, Griffin on the other hand has no regrets.
Offered Griffin to David Letterman last night on the 'Late Show':
"If you think this is the part where I'm going to apologize …," she said, "you are sorely mistaken."
She added: 'I tried, ladies and gays, I tried. For you."
Letterman then replayed the clip of the night and asked her: "Let's say a man on television did that to you. What would your reaction be?"
Replied Griffin: 'If it was Anderson Cooper, myself and every other gay guy and woman, I'd unzip so fast. Hands down."
Interesting.
Not so happy though is the Parents Television Council which has expressed anger over the not-so-family-friendly stunt after the ball dropped over New York's Times Square.
Reflected Parents Television Council president Tim Winter to TMZ "Griffin has shown increasing contempt for the [CNN] audience.' 
He went on to say that it's now up to the network to dump the comedienne before she tries to trump her own performance next year.
Mr Winter told the site: 'The onus is now on CNN.  Either the network has a policy that allows its on-air talent to fondle a co-anchor's genitals, or it has a policy that forbids such conduct.'
For now CNN has remained quiet on the matter, refusing to comment, conspicuously aware that the comedian brings in the viewers (or does she?) but vexed as to whether it necessarily wants the attention that Griffin has no qualms about bringing to the full bore.
Also conspicuously quiet is Anderson Cooper who is widely known to be gay which is probably part of the fun of having watched the action hero anchor man deliciously squirm as Griffin went to work in re defining as to what makes for palatable 'family' entertainment. Then again one gets the feeling Cooper was sufficiently elated that a woman attempted to give to him what most men on the block are only to eager to perform…
Then again perhaps what David Letterman ought to have asked is how Griffin would have reacted had Cooper been the one to initiate a simulated sex act on air on her. Would she and many other women still have called it 'family entertainment' or something a little more ominous?