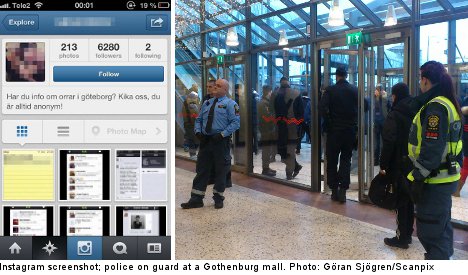 Swedish girls are not sluts. So say teenage Swedish sluts.
What's in a terminology and why do some of us get riled up and perhaps rightly so when certain terminology is used to describe behavior or just even a gender?
Nevertheless an anonymous instagram user requesting tips on 'sluts' and the receipt of pictures (of sluts presumably) in the town of Gothenburg, Sweden set off one local high school after various female students proceeded to throw bottles and stones at passer bys and cops. Cause as you all know no one likes being called a slut, especially women and even more so women who happen to be sluts. Whatever that word really means anyway.
local.se: Followers of the Instagram account ballooned as more and more pictures of Swedish teens labeled as "sluts" and "whores".
"It grew to 7,000 to 8,000 followers. They were [pictures of] younger siblings of my friends, born around 1997 and later, that were uploaded," a 22-year-old Gothenburg resident told Aftonbladet.
Once the Instagram account was shut down, the allegations then appeared on a Facebook page. Users began naming each other and the comments field was quickly filled with threats of violence. 
A second Facebook page called for people to assemble at the school of the 17-year-old girl believed to have posted the initial 'slut request' and then shared the pictures of the underage girls. That page reportedly said the older girl needed to be beaten up as punishment.
Needless to say civility was eventually restored.
The moral of the day? Never call anyone a slut even if they are one because shit like that has a nasty way of riling people up who can't let go of certain identity crises. Or is it society's identity crises with women?