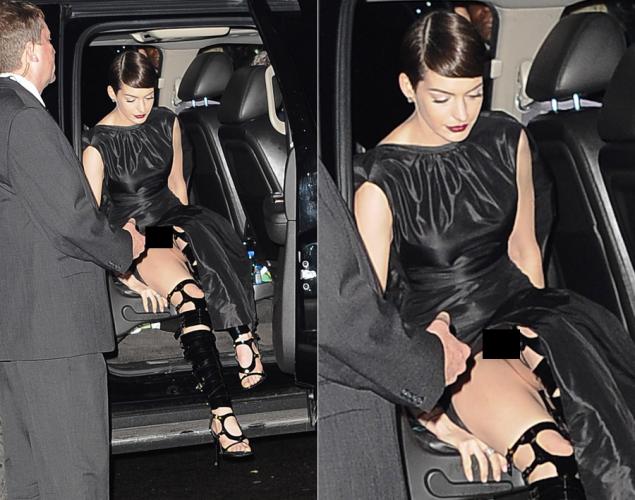 Oh really? Here's a picture of Anne Hathaway's vagina, courtesy of Anne…
Seems like Anne Hathaway is now regretting her decision to attend the Les Miserables premiere sans panties, as the actress is now crying 'not fair.'
Told Hathaway to Vanity Fair writer Ingrid Sischy : "I was getting out of the car and my dress was so tight that I didn't realize it until I saw all the photographers' flashes. It was devastating. They saw everything. I might as well have lifted up my skirt for them."
Hmm, well there's a thought for you Anne. Maybe you should have just turned up with your skirt hitched over your shoulders. Surely you would have received a standing ovation. Why just be a cracker jack actor when you can be a cracker jack delinquent celebrity?
Opines the nydailynews: Was her longtime stylist Rachel Zoe behind the mishap? Or was Hathaway just trying to avoid lines under her slim-fitting gown? Alexis Bryan Morgan, executive fashion director at Lucky magazine, says the incident was "shocking and unfortunate" because Hathaway is always "very pulled together."
Who can be sure then again one has to wonder how kinky Anne really is in real life, not that that in and of itself would diminish fan hysteria, quite the opposite.
Then there was Anne chatting away with the king of perfect chamomile tea cup manners, Matt Lauer (who's had his fair share of being dragged through the media circus mud sled) this morning of NBC's 'The Today' show (see above video) where she reflected on her hot crotch and the sleazy paparazzi who exist to exploit innocent souls like her:
"It was obviously an unfortunate incident. It kind of made me sad on two accounts. One is that I was very sad that we live in an age when someone takes a picture of another person in a vulnerable moment, and rather than delete it, and do the decent thing, sells it. And I'm sorry that we live in a culture that commodifies the sexuality of unwilling participants. Which brings us back to Les Mis […] So lets get back to Les Mis."
Isn't it time you started parading movie premieres and other dignified events sans panties…?
Anne also got a chance last night to discuss the ignominy of being a trash celebrity with Jimmy Fallon below too.