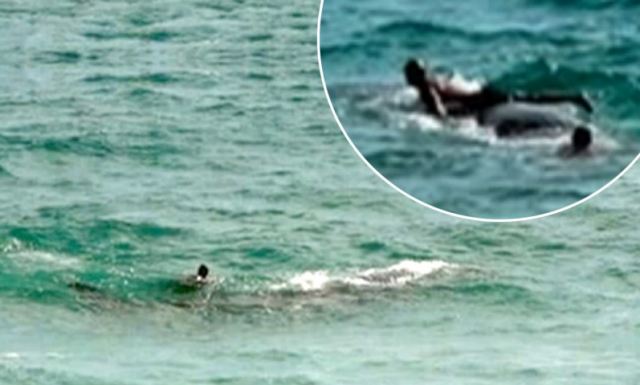 A federal investigation has been launched into the recent death of a sperm whale off the coast of Pompano Beach, Florida after it was caught video taped being ridden by a swimmer (see below). It is thought that the whale was distressed at the time and the swimmer who has yet to be identified had repeatedly climbed on the whale's back, something that the swimmer ought to have known was against the law or simply unwarranted. In fact it is against the federal law to ride a sea animal in the open wild.
Told Blair Mase, the National Oceanic and Atmospheric Administration's southeast regional stranding coordinator to NBC Miami: 'This whale was likely ill or injured and that is why it came in so close to shore.'
Since the incident this weekend, the animal's exact cause of death has yet to be known but wildlife officials say they are not defending the swimmer's involvement.
Offered witness Margie Casey who videotaped the incident that she saw two swimmers twice go up to the whale on Sunday morning. She said she watched them from her fifth-floor balcony, and snapped photos of one swimmer getting on the whale.
Casey said the whale at the time was drifting north along the shore, just south of a stretch of beach near the Northeast 14th Street Causeway.
Reflected Mase: 'This type of harassment could have caused more harm and added stress to an already stressed whale and ultimately caused its demise.'
Officer Jorge Pino with the Florida Fish and Wildlife Conservation Commission tells NBC that their involvement with potential criminal charges rests with NOAA.
'The only way that we would get involved in that is if (National Oceanic and Atmospheric Administration) NOAA asks us to assist in a criminal investigation.'
An earlier incident last month of one woman riding a sea elephant led to wide public outcry and her being fined and now awaiting sentencing.
Riding a Manatee in Florida will only set you back $500.

View more videos at: http://nbcmiami.com.