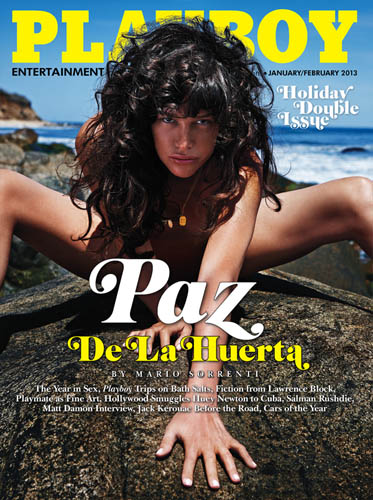 Kids finally the sanity I have been looking for. The smarmy and of course hot to trot bixch expression of vixen Paz de la Huerta (see Paz, I am nice to you sometimes…blah) gracing the cover of The Economist Playboy magazine.
And this being Playboy means Paz gets to pose with her knickers off (as if they are ever on in the first place) and make you dream sordid wet tantalizing tales.
Offers our collective nubile hero: "Cindy Crawford and Marilyn Monroe have appeared in Playboy. I celebrate nudity every day. It's our first wardrobe. And Mario [Sorrenti] is such an amazing photographer; he brings so much mystery and sensuality to his photographs. We did the photos with no makeup, and we both wanted them to have a very natural feeling. It was more about bringing out a part of myself that has not really been shown to the public, a more honest portrayal of where I am now in my life."
Which is Paz's way of saying that she was naked in the parking lot by the beach anyway so why not earn an extra hundred bucks for drinking money later?
And what does Paz think about working once again with uber swank Mario Sorrenti who first managed to get some naked pics of her then 17 year old titties?
"I did my first nude shoot with Mario when I was 17. He made me feel beautiful, and I really feel it was on that shoot that I overcame my fear of being naked. Mario is such an artist. He has taken photographs of me in which my body looks like a sculpture."
Which is of course Paz's way of saying I wanted to make it in porn but Mario lent me his name sake credibility so for now it's just soft porn until the acting roles really dry up.
Don't you wish you were gracing the wet dream of every man this afternoon too?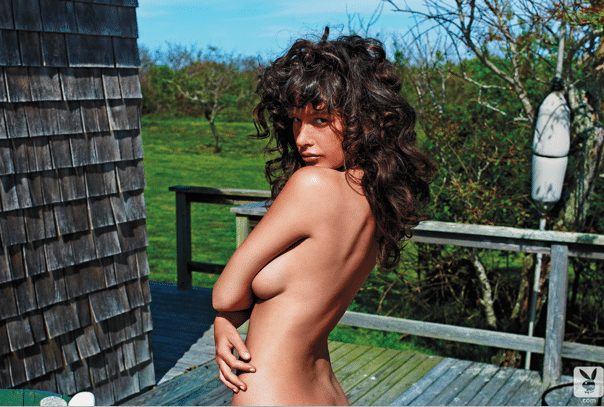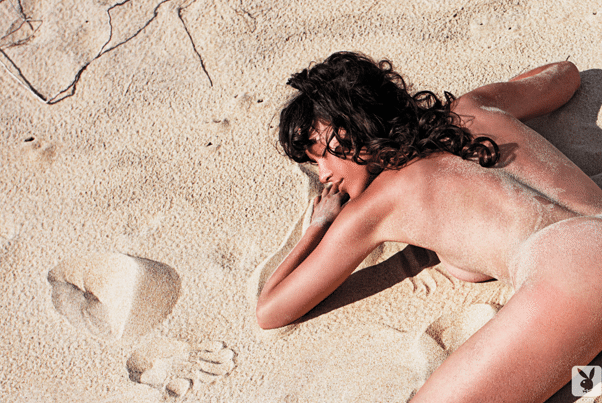 And this Paz de la Huerta going topless in her bikini. Chain smoking and pregnant?
Graphic: Paz de la Huerta goes naked for Terry Richardson. Spreads those cheeks…
Paz de la Huerta scoffs down a delicious burrito.
Oh No!! What happened? My hero Spaz got axed tonight?
The five worst dressed hawt bixches of the Emmy's.
Paz de la Huerta came disguised as a sober drunk at last night's Emmys.
It's time to meet Friday morning's hawt mess: Paz de la Huerta and her hangover…
Guess which drunk bitch this is?
My hero Paz got arrested last night for starting a drunken brawl.
Paz de la Heurta would like to point out to you her dress always matches her lipstick.
Did Paz de la Huerta really get stone drunk and flash her nipples at the Golden Globes?