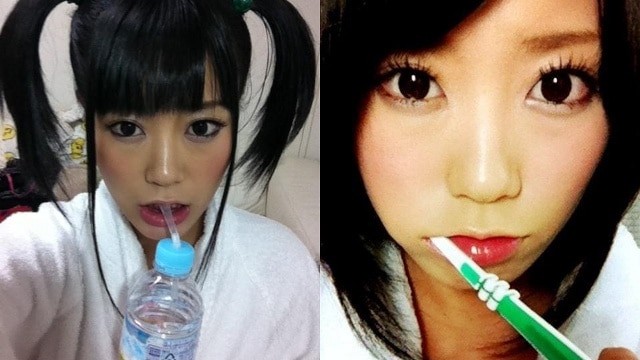 Lesson for all you aspiring porn stars.
So let's just say you're a porn star or aspiring to be one anyway and you're contemplating making a sequel to your seminal best seller, 'Seminal Collection' (yes I knew you'd like the title) or let's just say you're a novice looking to make a dramatic entrance into the industry, how would you go about it? Not sure? Let's all ask Japanese porn idol Uta Kohaku who came up with the following brilliant (well each to his own taste) idea:
gawker: Japanese adult video idol Uta Kohaku — best known for her uncanny resemblance to former AKB48 member Atsuko Maeda, was asked by the AV studio RADIX to help procure 100 bottles of ejaculate needed for the production of Semen Collection 2.
She posted the request on her Twitter feed, and, within two short weeks, the cum quota was sufficiently met. The containers were delivered to RADIX care of Uta, with each "sample" properly labeled with the donor's name.
"The semen from my fans! Awesome!" tweeted the 20-year-old Uta. "I will care for them as if it were my own child."
Kids I have to admit I am gushing (no pun intended). Of course let's hope Uta finds the chutzpah to ask for a few more specimens of the good shit in what ever fantasy trilogy she might come up with. Doubtless to say there will be no lack of donors in Japan or any part of the world for that matter.
Semen Collection 2 started shooting last week. Jerk off  enjoy carefully….