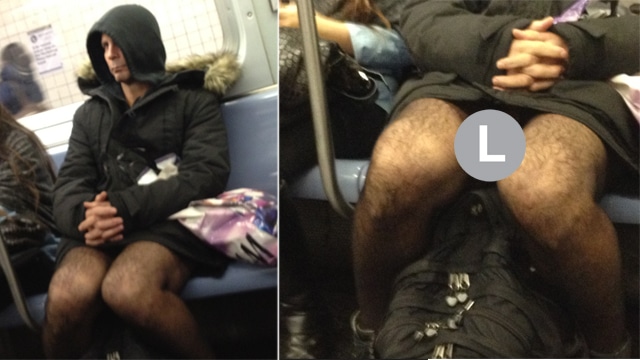 Riding the NY subway system can be an exciting, exhilarating experience. It can also be a non event or from time to time it can be a loaded experience which often leaves most of us very guarded anticipating the worst and sometimes simply traumatized for what we have to endure as we nonchalantly try our hardest to ignore the constant intrusive barrages hurled at us.
Which brings us to the next lucky sweepstakes entrant to 'I'm here to give you existential angst, starring my lucky bare penis shining in between my non existent pants and hardly hidden at all by my mini fluffy parka coat.' 
Gawker explains: The above photos were taken on the L train around 10:30 last night. (Scroll down for the uncensored version).
Melissa Smith tells us that after she sat down, the man across from her started opening and closing his legs to reveal his genitals to her. It's difficult to tell in the picture, but he was apparently wearing "crotchless nylons," perfect for those nights when you want to harass strangers on public transit but don't want your calves to get cold.
Smith started discreetly taking pictures when she realized what the man was doing. He noticed, and followed her when she got off at her stop.
Then he chased her.
Kids I have to stop here for a moment and ask a few soul searching questions.
1/ What was this dude doing walking around in freezing weather without any pants or briefs on?
2/ Wat is it his ambition to get a rise out of fellow passengers?
3/ Or is this just what goes on every other day in some people mind's cause baring your happy sac is nothing one ought to be ashamed of.
4/ And why the heck was this woman now being given chased by the dangling penis man?
Offers Smith via gawker:… no one came to her aid as a man wearing a parka and no pants chased her through the 6th Avenue subway station, but she's willing to give New Yorkers the benefit of the doubt: it may have been difficult to realize what was happening, given the amount of foot traffic.
Isn't it time you also had your own memorable photogenic NY subway experience too?
Video captures subway passenger pushed to his death by deranged panhandler.
Man caught on camera sexually molesting sleeping woman on NYC subway.
Oh really? Stinky woman urinates then showers on busy NYC subway.
Gruesome weekend on NYC subways with 4 deaths including decapitated head on platform.
Video: It's time to watch your cops vs fare avoiders subway brawl.
Video of drunk ass man trying to get back on the subway whilst boxing himself and being booed by passengers.
Woman uses NYC subway train as her personal shower.
Are you up for wearing the disposable subway riding glove?
Are you up for wearing the disposable subway riding glove?