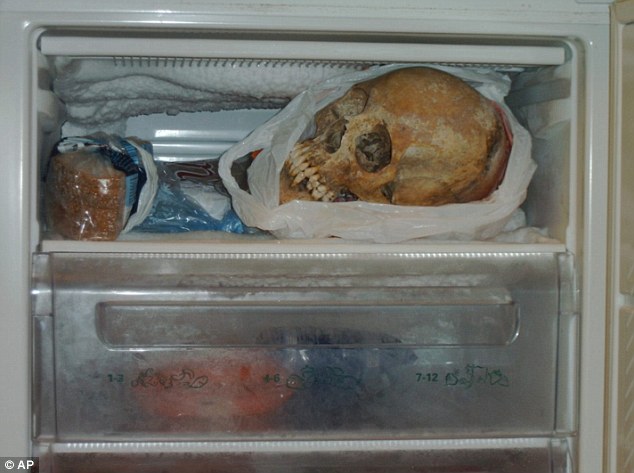 A 37 year old Swedish woman is suspected of using up to a 100 skeleton parts to have sex with, including six skulls, one backbone, in 'sexual situations, and has as a consequence being charged with violating the peace of the deceased.
During an investigation of the woman's flat they also came across CDs which bore titles such as 'My Necrophilia' and 'My first experience,' as well as photos of a woman kissing and hugging skills.
Swedish news agency TT goes on to report to date the woman has denied the allegations and claims instead that she collected the bones out of historical interest.
Research has revealed that the woman a few years ago wrote the following: 'My morals set my limits and I'm prepared to take the punishment if something should happen.'
'It's worth it. I want my man like he is, whether he is dead or alive. He allows me to find sexual happiness on the side.'
Also found at the woman's flat were photos from a morgue which were carefully hidden, as well as a drill and body bags. To date police have no proof she is a grave digger despite suspicions, although they did find an access code to a morgue.
Offered prosecutor Kristina Ehrenborg-Staffas to a Local newspaper in Sweden: 'Some of the photos show a woman licking a skull,' 
'We claim it's her, but she claims it's someone else and she found the pictures on the internet.'
Ultimately one is forced to wonder what the real offense in this instance is? Is it the fact that she may have obtained the bones illegally or the fact that she may have offended most people's sense of moral and aesthetic predispositions. Then again as one commentator reflected, 'define normal. What's normal for me may not be normal for you.'
The woman now faces up to two years in jail if found guilty.