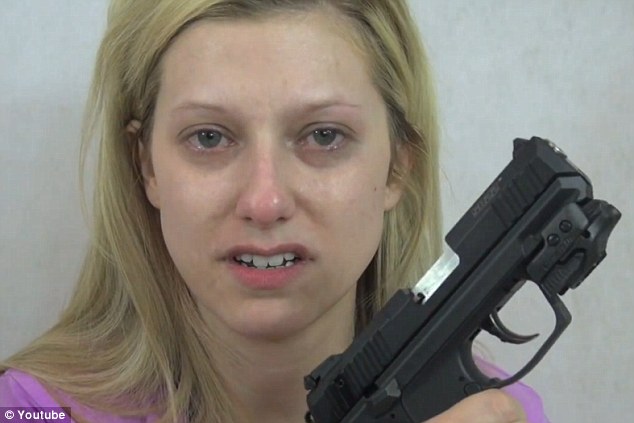 Is she telling the truth?
Brie Lybrand a popular video blogger and self proclaimed beauty guru as well former New Orleans beauty pageant has come out and made a video post on youtube (see below) in which she claims her father raped her from the ages of 4 till 13. The post she claims was made pursuant to her finding out that her father had now become a subscriber of her youtube posts.
Says Ms Lybrand:
"My father, Steven Bressler, molested, tortured, and raped me from the time I was 4 till I was 13 years old,"
Appearing disheveled and unkempt the usually pristine Lybrand continued:
"I just got an email from YouTube saying the man that raped me for most of my life subscribed to me. The man that took my virginity, robbed me of innocence, has subscribed to me on YouTube and is watching my videos." 
The post goes on in graphic detail about the many terrible things allegedly perpetrated by her father before Lybrand takes out a stockpile of weapons she says are "loaded and ready" in case he ever comes back.
Hardly the beauty accoutrements her followers had anticipated.
Despite the severity of the assertions and the demeanor of Ms Lybrand, gawkergoes on to note that some have questioned the veracity of the video post pointing out her background in acting whilst maintaining Ms Lybrand's history of consistently making video posts that document her beauty treatments and shopping sprees in keeping with her genuineness.
Either way Ms Lybrand has achieved the impossible, bringing new attention to her video posts, becoming a tabloid must read story, the visibility of the actress that she always insisted she was and the maniacal fuck you warning to her perpetrator whether he exists in actuality, in her imagination or perhaps in our imagination….
That said I've pulled up some comments from gawker that caught my attention:
Gimme a fucking break. Seriously, it's tragic when a girl gets raped, but this one's full of shit. I'm sorry to all the ladies that have really endured this, but unfortunately, this one's fake. The misfortune of the internet is that anybody can present any persona they like. This is a great example. You can tell in mannerisms. Sniffing and no tears? The "Stay out of my way, I'll stay out of yours" attitude. What is this, the Wild West? Statements like that aren't typically statements of a rape victim, but more of someone who was bullied. I can believe that. But, rape? No.
At least she said one thing real. She's an actor. 🙂
i hate to be that guy, but this has fake written all over it. i would like it to be fake.
I don't understand why everybody is thinking it's fake. it might be, but then again, I totally see why she would make this video. Because she saw him subscribe to her channel and IT IS terrifying. For him to show up like that, she might think he decided to stalk her now, try to find her. She is fucking scared. Wouldn't you be? She knew he would see it and she wanted to be protected, so there is documentation of what happened, with his name. She wants to spook him so he doesn't show up at her door.
Noooo not this time Gawker. I watched the damn Otter video, you can't make me watch this one too!