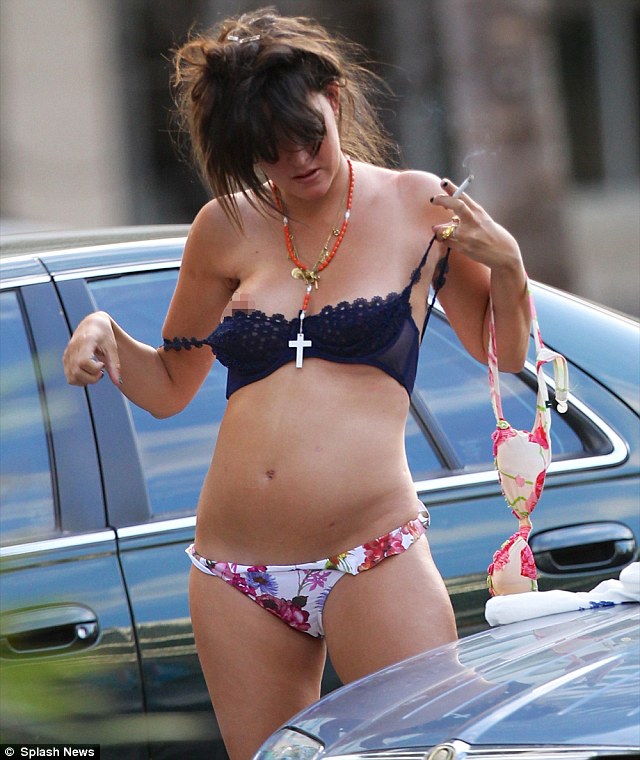 Miami, FLA. There's nothing like the delicious sight than that of my hero Paz de la Huerta hobnobbing along the sleazy planks of abandoned strip malls, abandoned car parks and sunny beach promenades.
Which of course brings us to the above picture of our collective action hero who is seen brazenly disrobing in public as she switches from one slutty look to another (I know I'm in a good mood today…)
But then again what may appear derogatory to me and you is a pleasant compliment to Paz as she begins her day, smoke in hand, bra strap in the other and last night's cocktail avalanche heaving its way out sometime later today past her yellow white membrane soaked eyeballs. Which is to say this is just another day in the life of Paz.
Of course this being Paz, and Paz can never pass up a photo op, is the fact that moments before the paparazzo took the above and similar images of changing in the parking lot is the fact that she had walked into a public restroom. But then again that would have been too much to have asked of Paz to have changed in a restroom, real heroes like Paz do that shit in public and in front of waiting paparazzi.
What's also interesting to note is that Paz appears somewhat 'rounder' than usual. Recently confronted whether she was pregnant our hero insisted she was not, which leads to the scary thought then what exactly is going on with Paz otherwise?
Paz who was recently dropped from a third season on 'HBO's' 'Boardwalk empire' (can anyone guess why?) and who had to contend with a minor brawl with 'The City' actress Samantha Swetra nevertheless is continuing to make inroads as she is set to appear in a soon to be released biopic on 'Linda Lovelace the story.' But then again we all know the best movies of Paz are the ones of her staring in her every day life.
Nevertheless, for the time being our hero put all aside as she casually sauntered alongside the sunny planks of Miami with her weary next day hangover demeanor as she stopped to light one more cigarette for the road.
Don't you wish you could be a hot mess too…? I know I do…
via dailymail.co.uk
Graphic: Paz de la Huerta goes naked for Terry Richardson. Spreads those cheeks…
Paz de la Huerta scoffs down a delicious burrito.
Oh No!! What happened? My hero Spaz got axed tonight?
The five worst dressed hawt bixches of the Emmy's.
Paz de la Huerta came disguised as a sober drunk at last night's Emmys.
It's time to meet Friday morning's hawt mess: Paz de la Huerta and her hangover…
Guess which drunk bitch this is?
My hero Paz got arrested last night for starting a drunken brawl.
Paz de la Heurta would like to point out to you her dress always matches her lipstick.
Did Paz de la Huerta really get stone drunk and flash her nipples at the Golden Globes?