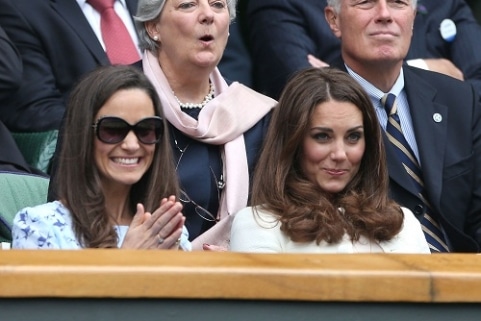 Pippa Middleton is now no longer allowed to leverage off her sister said her sister Kate and her husband, the future King of England, Prince William.
Hmm it seems Pippa Middleton has got some grief on her hands do deal with now that she's being spanked for being a consummate media whore by the royal family who are for once putting their foot down and reigning in Pippa who has a habit of inflaming anything she touches, smells or even looks at (but mostly that shit happens when she's caught hanging around rich types who may or may not be plausible suitors worthy of her attention- yes Pippa knows what's she's worth thank you very much!).
Apparently the latest do not speak to the media mandate courtesy of the royal house has come just when Pippa Middleton was set to pump the bejesus out of her party book How to score a free ride off your sister, Celebrate: A Year of Festivities for Families and Friends, but that shit has been put on  permanent standby cause the royals are pretty fed up about the world talking about the size of Kate Middleton's titties (except us tabloid types who couldn't write enough stories fast enough about that shit).
Reports the nydailynews: Pippa Middleton has spurned dozens of big money media offers in the U.S. — fearing she will be dragged into her sister's topless scandal.
"Pippa has been besieged with offers from everyone in the U.S. media offering her a raft of opportunities," a source tells our Hollywood correspondent James Desborough. According to that source, "Offers included being a special correspondent on shows like 'Entertainment Tonight,' as well as interviews with Ellen DeGeneres, Oprah Winfrey and Anderson Cooper."
For once Pippa is now listening to what Kate and the royals are telling her (yes I'm betting that there is a big stick waiting to be used should Pippa no longer pay attention) but the falling in line behind Kate Middleton's tender nipples is set to cause Pippa to miss out on some fast money.
Marketing experts estimate that party planner Pippa could have made as much as $600,000 on a whirlwind engagement tour to plug "Celebrate" — her book about party planning. However, insiders say Prince William's sister-in-law doesn't want to fall out with the queen and other in-laws over suggestions she is selling them out for personal gain.
$600 000 for just existing and being lucky enough to be related to the future Queen of England? That's not a bad gig if you ask me, but then again Pippa probably figured that shit out a long time ago, especially when she first sat down and started wondering if she should write a book about planning a party, a good hearty nonsense book will that would be just enough for her to ride the gravy train (personally I would have advised Pippa to write a more racy book; 'How to party like a hanger on with rockstar friends.')
Reflected the nydallynews source:
"If she were seen using the royal family to promote her book, she would soon be viewed as the next generation's Sarah Ferguson. If Pippa is quizzed about Kate's topless pictures, then whatever answer she gives will generate more news about the matter, and upset Will and Kate."
Hmm, I bet Sarah Ferguson is not loving that bit even if it's probably all too true. Which makes me wonder why did it take so long to put a key and lock on Pippa's ass in the first place? Was it really all that stuff about naked titties that got the royals so worked up? (I know I hate it when I get trashed by the press too, but then again I don't have any topless or nude images of my hairy ass floating along the web just yet anyway).
Adds the source:
"Viking [the publisher] was hoping that there would be a huge swell of publicity for this book which would lead to sales. Nobody has really ever heard Pippa speak before and U.S. audiences are fascinated by her. This could have launched a new lucrative career here."
Oh well, so much for Pippa coming back to NYC and tantalizing us with her presence and the next round of the customary gossip that would have made your day…Blah!