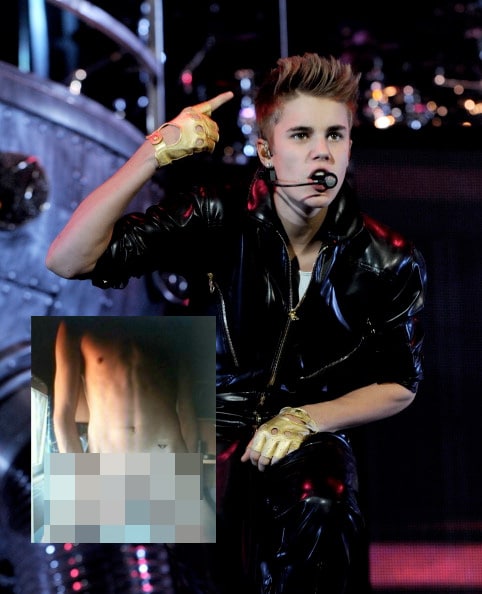 Ever since reports that Justin Bieber's personal computer and obviously everything that was on it was stolen from him reports have been circulating on the web that a sudden nude image of him (one assumes recovered on his computer cause that bixch is into kinky shit) may be in the viewing. That of course has caused a splurge of interest as nothing says more than a picture of your hero naked as a testament to how much you adore them. Right?
But before all you bixches get your knickers in a knot, pundits are now wondering out aloud that the picture floating out there is probably fake and even if it were him there's no way to prove that it's Justin (although the tattoo in the picture, the same one Justin has is causing others to disagree, even if some reckon it's just been photoshopped onto the image) because that bixch's head is cut out so there's enough room for doubt.
Reflects blog.zap2it: First of all, the die-hard Beliebers on Twitter are insisting that the photo is several months old. They also claim that the belly button in the pic doesn't match Bieber's, but we're going to politely decline to investigate the belly button, as we prefer not to look at this photo longer than absolutely necessary. According to one fan on Tumblr, the nipples also aren't the right shape. kill us now.
Imagine that, knowing the size of your hero's nipples?
To date Justin's camp have kept their mouths shut, that after everyone held their breath hoping that the rumors of an imminent Justin Bieber sex tape was true also with instead the above naked photo of him offered in its place (yes I hear you all crying, we deserve at least one Justin Bieber sex tape).
But in case some of you still insist that is the real shit, gawker notes the following:
But the most damning evidence against this being an actual photo of Justin's junk is that the same pic apparently existed on Tumblr before anything was stolen. Amelia McDonell-Parry at The Frisky says she saw it in a blog post from 10 months ago.
And what does our collective hero think of all the brouhaha?
Tweeted Biebs: "sucks when u take personal footage and people dont respect your privacy. yesterday during the show me and my tour manager josh had some stuff stolen. really sucks. people should respect other's property. had a lot of personal footage on that computer and camera and that is what bothers me the most. #lame #norespect"'
Oh shuz Justin, wouldn't it be better if you just gave us at least one sex tape so you can finally get it out of the way as you can continue your rightful media and celebrity rise? ps- no fake photoshopped penises allowed….it would terribly upset the Beliebers who could probably tell it was all fake anyway. Blah!