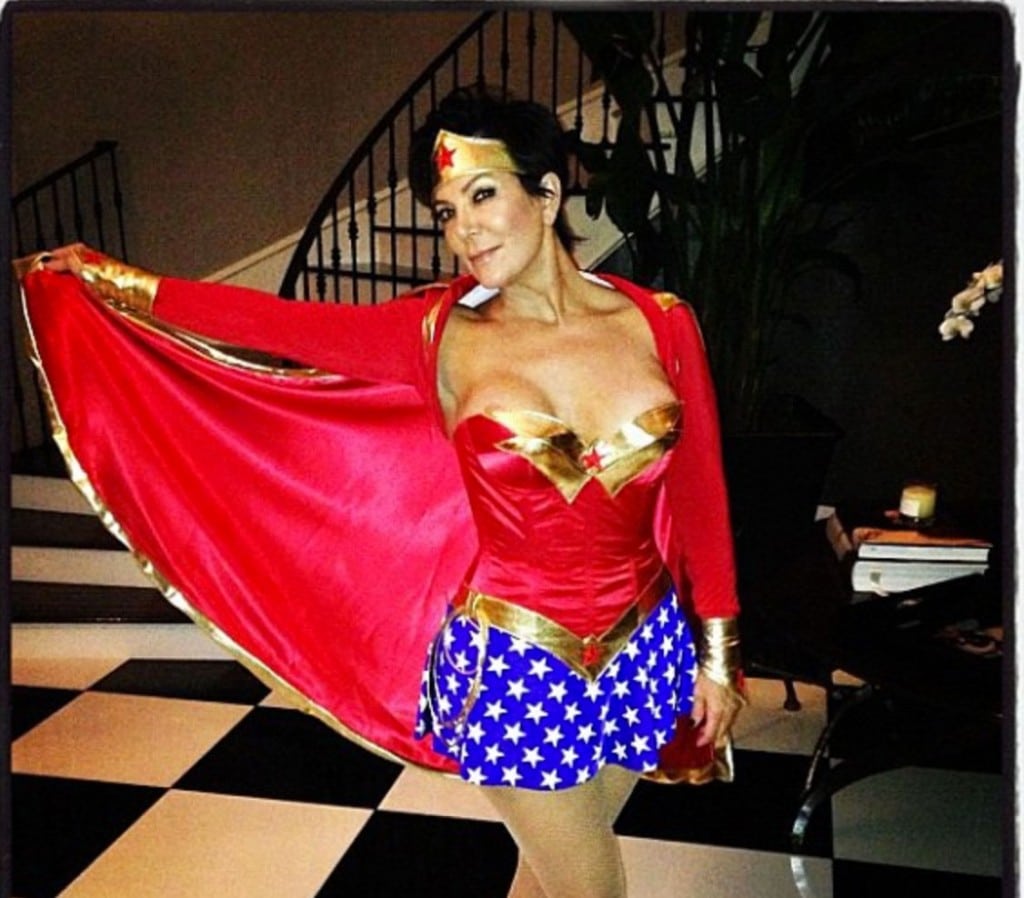 Everything Kim and Khloe Kardashian can do pimp momma Kris Jenner can do much better thank you very much.
lt looks like Kris Jenner may have crossed a line this weekend when she twitted a picture of herself in her Halloween Wonder woman get up (the truth is this shit is what momma Kris saunters around in the living room anyway but finally just used Halloween as an excuse to share this shit with us and heck deep down momma Kris is 'wonder woman' anyway) revealing some bountiful nipples that just couldn't contain themselves.
But if you think that shit has got the world or momma Kris's little monsters Kim and Khloe Khardashian (undisputed media whores of the Kardashian clan) unwound you're wrong. What's got the sisters unwound is the fact them bixches are the only one who are allowed to make a r rated scene with lubed up confetti balls and vixen come hither winks at the camera boy. That shit has been personally already promised to be Kim's personal ultimate domain and now momma Kris has ruined everything by pretending she can be a floozy media whore too! Not over Kim's dead body pimp momma!
After momma Kris twitted her faux pas to the world, Khloe who regularly checks her twitter updates (cause you never know when you're staring in another media scandal behind your back…) came across momma Kris's stunt pic which of course elicited the following curt response from precious Khloe:
'Hi nips. That's my mom.'
But really what Khloe wanted to write was the following:
'No nips. Kim said she's going to kill you now!'
Kim and that other brat Kourtney (who for some reason has managed to stay out of the limelight maybe because she figured she could never compete with all them other media whores running around the patio) noticeably stayed quiet and declined to comment on momma pimp Kris' new hussy picture.
Thinking better of it momma pimp Kris later took down the image but not before every school boy in America made a copy of it and pasted that shit in the back of their locker box.
Isn't it time you pimped your ass out tonight too?
Kim Kardashian tweets wondering out aloud whether you like her Halloween leopard dress?