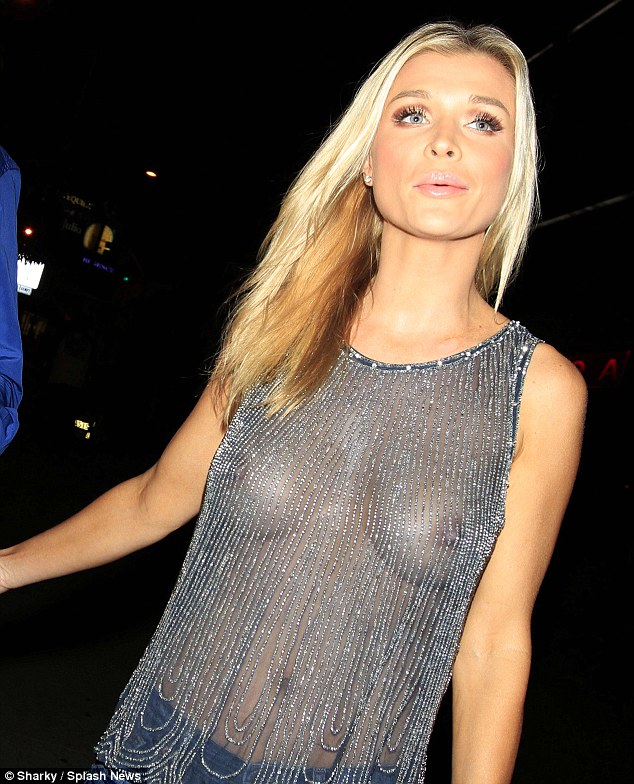 It seems 33 year old Real Housewife of Miami star Joanna Krupa has caused mouths to gag when the hawt bixch recently took to wearing quite the revealing top when she attended a dinner engagement with her fiance, Romain Zago at BOA Steakhouse in Beverly HIlls.
But in case you're wondering if Joanna may have been a little bit embarrassed when all them eyeballs zeroed in on her nipples think again, that bixch didn't even flinch as she gave you as much of an eyeful as you could dare stomach.
Of course some are now wondering if Joanna was being tasteless and pushing levers a bit too much which merits the following reply from this author: 'if bixch really wanted to offend and push levers she would have turned up for dinner in that little leather g string outfit she only takes out for special occasions when that bixch Romain whimpers like a desperate dog that he loves her.'
The former Polish born model and aspiring actress (hence all the fame whore attention seeking behavior kids) has in the past posed for Playboy magazine but is intent now on becoming our newest collective media whore that will inspire us to greater heights and of course constant titillation.
Isn't it time you started strutting the streets in your own see through top too…?
Real Housewife of Miami star Lisa Hochstein tramps in her itty bitty bikini.
Oh my! Real Housewives of Miami star Adriana De Moura amazes in her itty bitty bikini….