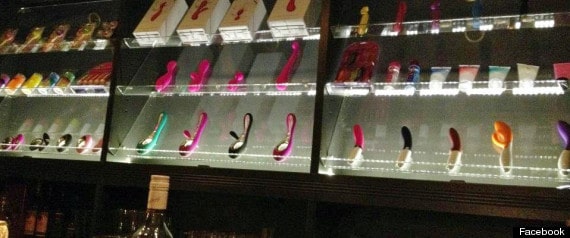 For those of you inclined to share frank sex stories and what gets you off or to be precise how to get off, Japanese proprietor Megumi Nakagawa may have the right place for you, assuming next time you're passing by Tokyo, Japan.
huffpo: Love Joule, a colorful new bar in the Shibuya district Tokyo, is the first "love and sex bar dedicated to women," according to the Tokyo Reporter. What does this mean, exactly? Female proprietor Megumi Nakagawa minces few words.
"Once they take a seat, customers are able to experience a pleasant place in which they can openly discuss masturbation. Since most people view female masturbation as something of a mystery or taboo, it is not a usual topic at typical bars."
But what is a usual or so often typical discussion at most bars is the pursuit of sex which with enough tequila may be enough to get the saucy side of you out in the open.
Behind the counter, where rows of liquor bottles would normally stand, are colorful display cases filled with dozens and dozens of different types of vibrators.
And of course what woman can't resist testing out a new vibrator or at least finding out about the one she may have recently overlooked during her last visit to the adult store?
Speaking to patrons at Love Joule, one Japanese blogger had one frequent goer acknowledge the following:
"I go because it is a safe place and I don't have to worry about trying to brush off men all the time. Add in that it is also a great place to drink and talk about what we women love to talk about, sex and guys, that's also a big pull."
Which perhaps may speak more about the general relaxing of attitudes towards sex by society who until now often held the public discussion of such dicey topics as masturbation off limits.
Reflects Ikuko Ikeshita: "….there has been a movement to do away with the stigma surrounding female masturbation in Japan, pointing to the increase in websites discussing female sexuality and stores selling female sex goods."
And for the men out there reading this wondering out aloud if they're welcome to drop by, the bar holds a strict policy of no single men allowed unless of course you happen to come with a woman. A woman of course who values the priceless discussion of masturbation…
And then there was this comment that caught my attention:
i wonder if there are special rooms where the girls can compare techniques and try out the toys.
In your dreams right….?