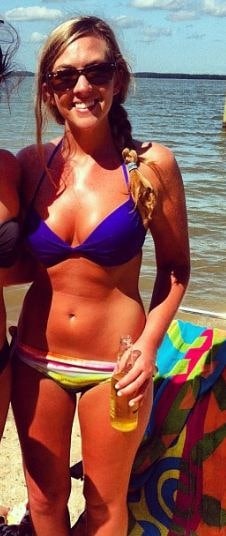 Anna Michelle Walters gets one year sentence for having sex with a minor. Still a predator?
Substitute teacher Anna Michelle Walters arrested after sex with second student disclosed.
Justin Foster finally stops tweeting about how he banged the teacher. Twitter now hates him.
Substitute school teacher Anna Michelle Walters now being investigated for having sex with other minors…
Justin Foster's twitter page explodes after boasting of affair with substitute teacher.
Substitute teacher fired after former student boasts of affair online. Posts nude pictures.
What to say what to think? Whatever ever happened to just giving teacher an apple….?
With the scandal of one former substitute school teacher, Anna Michelle Walters at Cosby High School in Midlothian, Virginia with former student Justin Foster comes new information to light. Or rather images you've been craving to get your hands on.
Guilt ridden or just seeking revenge, or just a weird plea for help former student Justin Foster has gone on a mission to out his former school teacher with whom he had an affair with. Unabashedly our Justin has gone and released all sorts of incriminating back and thro text messages between himself and his former teacher which even made this seasoned love junkie blush. This of course has elicited a whole range of responses on the young man's twitter handle which at present kind of resembles a weird pinball game of 'you're a hero Justin' and 'you just did this shit to get even,' to other individuals wishing that they had been the lucky son of a gun who got to bang teacher. And here I was thinking that I ought to be concerned that somehow a pupil was sexually abused by his teacher…
Tweeted one high school friend: 'Congrats to @DubVeeU for successfully fulfilling every guys high school fantasy by banging the sub. #props'
Tweeted another : 'No matter what people say @DubVeeU is a f****** boss. #BossStatus'
But not everyone is too pleased:
'I don't know what she did to you, but NO WOMAN deserves this. You are an immature, MEAN, HATEFUL, INSECURE person,' a Twitter user named Mya Wren wrote.
Whilst that in itself might help pass the day for those of you in the mood to wonder about the current decay of teacher student relations (there always seems to be a steady supply of teachers spreading their tonsils for their students) one ought to pause and wonder if in the end Mr Foster has taken this all a bit too far. But then again Ms Walters was playing with fire. Actually she was playing with a fireball.
That said here below are some images (which teacher happily passed along to her former pupil before he retweeted them) that I came across the following sitewhere you can also find more images posted of our new heroine and a short bio of her not too illustrious ascent in the tabloid pages.
Isn't it time you seduced your sub teacher today as well…? Or is it the other way round, so much for protocol and that apple on the table that used to be the friendly way to say 'teacher you're amongst friends….'