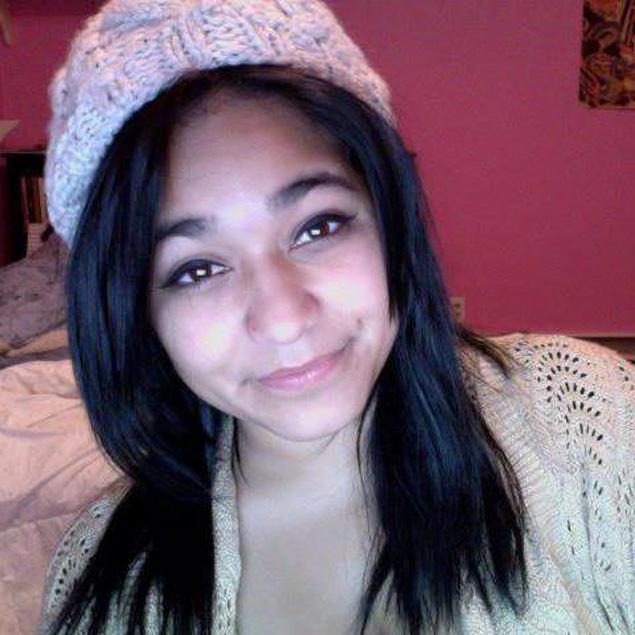 Teens suspended after posting video of Felicia Garcia having group sex.
15 year old Felicia Garcia of Staten Island, NY jumped to her death yesterday in front of an oncoming train because as a result of rampant bullying she had endured as a consequence of having had sex with four school football players.
nydailynews: Felicia Garcia, a 15-year-old freshman at Tottenville High School, was driven to her death after two 17-year-old classmates blabbed about the encounters.
"Kids are saying she had sex with some guys from the football team at a party after the game," said a friend of the doomed girl who asked not to be identified. "Later on they wouldn't leave her alone about it. They just kept bullying her and bullying her." 
After the weekend, the bullying sent Felicia into the final tailspin in a long-troubled life.
"I cant, im done, I give up," she tweeted Monday.
Accordingly school officials got wind of the bullying and orchestrated a mediation session yesterday with one of the 17 year olds said to have harassed her, an assertion that the boy denied. Leaving the office Ms Garcia then came across two of the other 17 year old youths which led to an exchange of words and Ms Garcia then marching off to Huguenot station of the Staten Island Railroad where she killed herself in froth of horrified classmates.
Remarked one student Alissa Compitello who witnessed Felicia Garcia jumping in front of the train:
"She was smiling though, like everything was going to be okay."
Offered Sara Brager, a 16-year-old junior, who was on the platform when Felicia Garcia chose to jump:
'She handed her cell phone to a pal, walked to the edge of the platform, then fell backward into the path of an oncoming train. ' 
"Just before she fell, she said, 'Finally, it's here,' It was the most horrible thing I've ever seen."
According to authorities Ms Garcia's life had been marked with tragedy who had been living with a foster family and was a chronic runaway who'd been reported missing as many 7 times in recent years.
Interviewing the varsity football players involved in the sexual liaison authorities reiterated that the youths insisted  that at no time was Ms Garcia pressured to do anything.
Ultimately one has to wonder why the culture of shaming young women is so endemic that any behavior or thought or action which is not consistent with the vision that they give off the image of virgins should lead to public incrimination of young women. On one level it hints at society's uncomfortable stance towards sexual attitudes and behavior that it finds troubling or too close to home. Add the volatile component of a young women with low self esteem (which probably inspired her decision to have sex with the varsity players) and you have a molotov cocktail waiting to go off…
Offered one commentator which caught my attention:
She was no way bullied but lost her reputation. Plain and simple. It's sad for teenage girls to show she can handle being with the popular boys such as the strapping and athletic football players by doing the deed. This isn't the first time a girl gets involved in this kind of situation. It's been done in every generation and generation before that. This is about her reputation being ruined and she couldn't handle the smear campaign that these football players spreading. It's all senseless. She's a pretty girl who should've thought about morals and not opening ones legs. Sad all around.