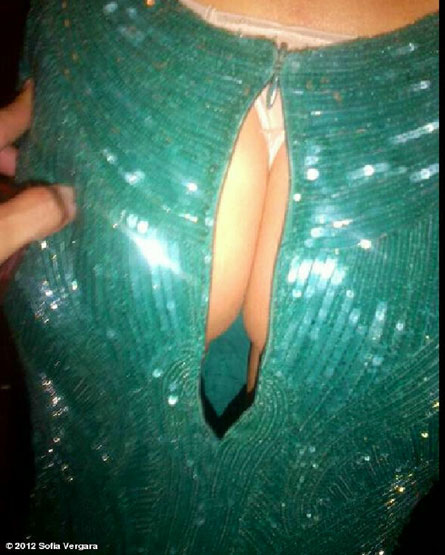 It's time to figure out who was the top 7 worst dressed at the 2012 Emmy Awards.
Not only did Sofia Vergara have one of the most stylish outfits at last night's 2012 Emmy Awards she also inadvertently had one of the most talked about ass cheek mishaps as well. Not that Sofia actually minded though (nor you too bixch).
Struggling with the mishap (yes the metaphorical statement has me in rapture too, but first someone need to explain the metaphor everyone keeps talking about) our heroine managed to get the above shot off and later tweet it cause nothing says more than you arriving than accepting another Emmy award (Modern Family once again won Outstanding Comedy Series for the third year in a row), being voted for best dressed (that's where the breasts beat out the ass crack) as well as being nominated for best ass crack of all time….
where the pictures also appeared ontwitter