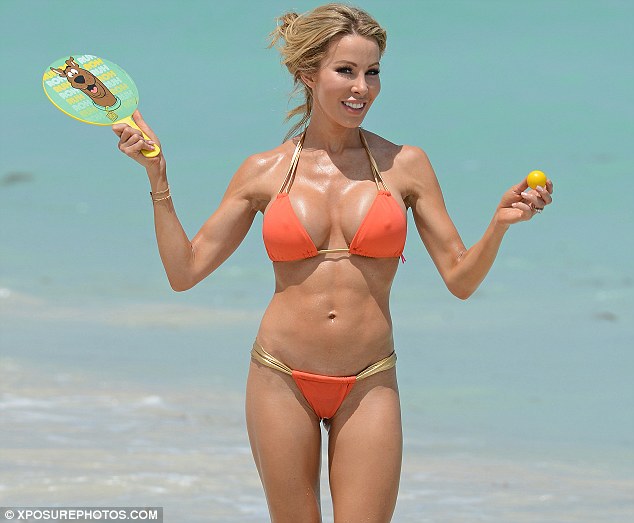 Lisa Hochstein is also a preferred hawt bixch…
In the latest pr stuntto come courtesy of the Real Housewives (of Miami) franchise Lisa Hochstein has volunteered to traipse along the Miami surf in her fluorescent itty bitty bikini. And of course Lisa does not disappoint.
As the dailymail so aptly points out our heroine could be seen 'Sporting thick dark eye make-up and pale lipstick, Lisa took the opportunity to show off her curves, flat stomach and toned legs.'
Which of course is the dailymail's way of reminding us that Lisa is a valuable commodity to the human species and a role model for the women's movement. But then again what woman doesn't enjoy showing off her silicone gorged titties for the camera when stardom is involved?
And the verbiage continues: 'Lisa is a self-proclaimed 'professional housewife,' married to Miami plastic surgeon Dr Lenny Hochstein, aka the 'Boob God'.
And from the looks of it, the model has been the recipient of a few freebies from her husband.
Freebies? I wonder if Lisa would see it that way herself. Surely Lisa has had to pay the piper the toll fare to keep all the niceties thrown her way. Being a hawt bixch after all comes with a lot of personal sacrifice, something we are sure to all find out once Lisa makes her debut in season 2 of our collective wet dream show.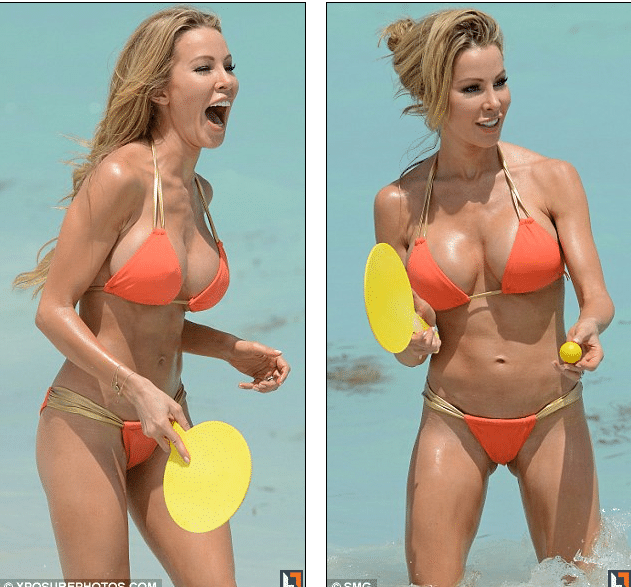 But in case you think Lisa has it all rough you're wrong.
'Lisa and Lenny (her husband) have been leaving their mark on the Miami social scene ever since,' according to her Bravo cast biography. 
It adds that the blonde beauty 'made three appearances in Playboy magazine and can often be found shopping, lounging, and hanging out with her maid and best friend Daisy.'
Shopping,lounging and enjoying the good shit. That doesn't sound so bad to me. I'm sure Lisa can do that shit blind folded.
If only you could find the spare time to saunter in your itty bitty bikini and enjoy the good life too, unless like Lisa you already do…