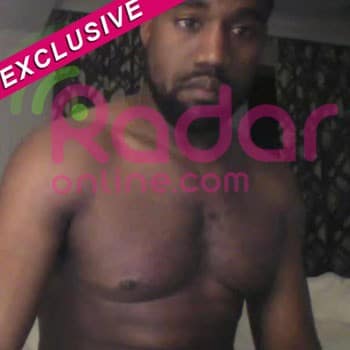 Kanye West raps about Kim Kardashian's sex tape. Calls the truth out.
If Kim Kardashian can do it so can Kanye West…
It seems being the consummate media whore these days requires one to inevitably come out with their own sex tape which thankfully Kanye West, the consummate media whore that he is has finally come out with, courtesy that is of a lover that is going to use the good times she had with that bixch for a fat pay day…
And it goes something like this:
radaronline: The tape is nearly 20 minutes long and appears to have been shot in a hotel room with an unidentified female who clearly states at the beginning of the video that she's 18 years old.
The woman also confesses to Kanye that she is married and claims, "My husband and I don't have sex anymore… that's why I'm here!"
Well at least she has the decency to confess that she's married and penniless in a passionateness marriage. That must have inspired Kanye West to do his moral best to oblige the misbegotten young woman. Frankly Kanye West should have a sign on his bathroom door that reads something like this:
'Willing to service ingenue types who are no longer getting the love that they deserve. SAG and AFTRA, IMBD accreditation negotiable.'
RadAr then go on to state that the babe in question is a dead ringer for a Kim Kardashian look alike which on some level must please Kim. At least it ought to.
And so how's the sex?
During the couple's steamy sex romp, they never kiss and don't interact any further than simply doing the deed, in various positions throughout and with Kanye wearing a condom.
Various positions, never kiss, and never really interact except for the heave ho part. Personally I would have thought Kanye would be rapping in the background 'Me got some KK look alike booty bixch!'
Well at least to his credit Kanye put on that rubber.
And how does Kanye feel about this sex tape being shopped around (never mind Kim Kardashian, me thinks that bixch is jealous as sin and is wondering how she can somehow cash in on that shit, maybe sell a KK condom for intimate and disturbing occasions; 'KK condom for when you refuse to look each other in the eye.'
Says an insider:
"The sex tape is being shopped right now and there's a lot of interest, but Kanye is freaking out!"
"He doesn't want this tape out and will do anything to make sure it stays private.
"If this were to hit the market it would be worth a fortune… there would definitely be a lot of people wanting to see this!
"In my expert opinion Kanye's performance far outweighs Kim's!
Kids, let's all raise your hands, is this something you're dying to see? I know me and the chipmunks have both our hands and feet raised on this shit.
Says the insider once again:
"Kanye was practically in tears when he heard the tape was being shopped."
Never mind Kanye now you and Kim can finally have something really in common. Of course me wants to know if you made the tape before you started banging Kim or during, cause if it was the latter that shit will only make more sparks fly between the two of you….
Isn't it time you finally released your own sex tape too….?
But perhaps Michael K over at dlisted sums this shit up sweetly:
Please, this staged sex tape mess is just another production from Pimp Mama Kris. If you want to be fully accepted by the Kardashian family, the world has to see your bare ass bouncing in the air on a sex tape. It's not a sex tape, it's an initiation ceremony.