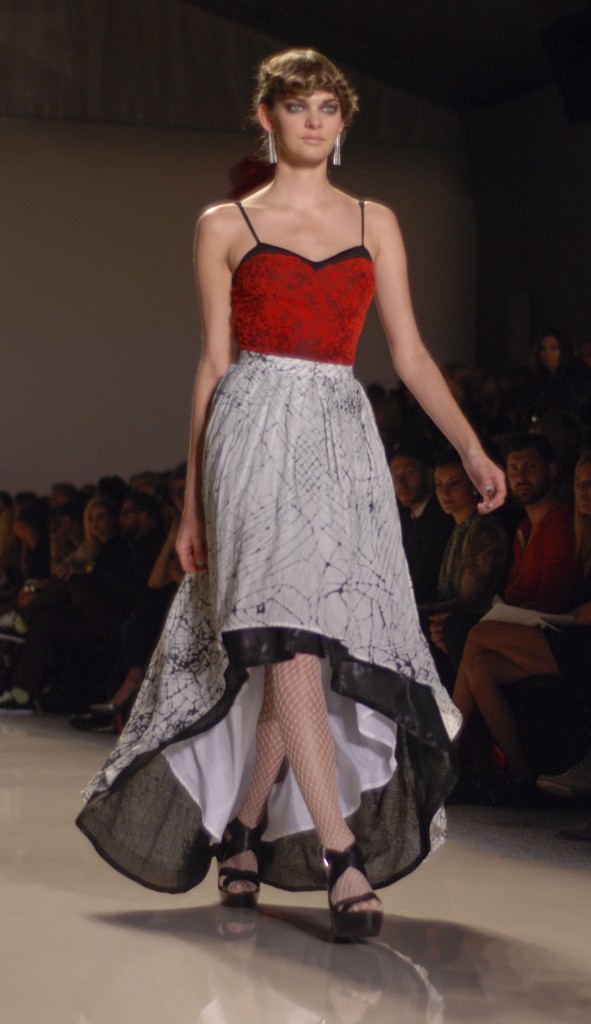 The Emerson Spring 2013 collection was all about black and white with a pop of color, the go to trend for Spring that we've been seeing thus far from multiple designers. I heard black and white was back, and I couldn't be more pleased since these colors are generally the staple of my own closet, and so with Emerson we saw versions include stripes, polka dots, and black leather structured and need I say there is nothing I love more than a black dress with a white peplum.
Pops of color were also present to keep the show alive. Here we saw bright reds thrown into the mix, flowy colorful dresses as well as a royal blue show stopper gown, again nodding towards another huge trend soon to hit which is jewel tones.
My favorite pieces incorporated cardigans or letter jackets with the dresses or skirt combos. I love the comfortable yet pretty look these add-ons can bring to the most simple or even busy of dresses.
I saw many pieces that I could wear to the office and then also keep on for a fun night out, and this is the most important part of fashion or me and I would say the majority of women who are on the go and don't have time for a wardrobe change.
Also, need I not forget Paula Abdul was present for this show, something I don't think anyone could get enough of.
To see more images go next page.