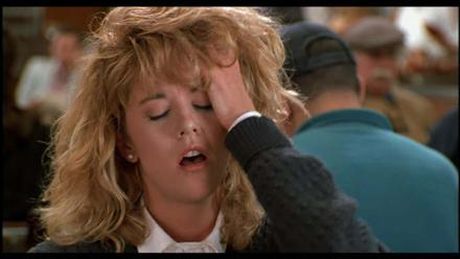 Have you ever wondered what it's like to have 100 orgasms a day? I know some of you are licking your chops but unfortunately the good shit isn't as pokey as it sounds like it could be.
Case in point, 44 year old Kim Ramsey who has the misfortune of experiencing dozens of unwanted orgasms (sometimes more) a day due to a medical condition known as persistent genital arousal disorder (now that's getting straight to the point).
But in case you think Kim is just being a bad sport (yes, I know a couple of orgasms here and there helps keep the doctor away and will keep you smiling) her condition, which to date is incurable is unrelated to sexual desire.
"Other women wonder how to have an orgasm," she is quoted as saying. "I wonder how to stop mine."
gawker: The orgasms began to trouble Ramsey in 2008, when she entered into a sexual relationship with a new partner. "I had constant orgasms for four days," she said. "I thought I was going mad."
She desperately tried to halt the sensation through various home remedies, but it persisted, resulting in over 200 orgasms over a period of 36 hours. "The pain and exhaustion was excruciating," she said.
In the aftermath of that episode, Ramsey says the slightest movement can triger an orgasm.
"Imagine feeling aroused for no reason other than you got up that day," she said. "I've even had one in public. I was travelling home on the train and it was a bit of a bumpy ride. Every jerk of the train or vibration made me more aroused and it was a 40-minute journey so there was nothing I could do. I just had to bite my lip and sit on my hands and hope no one noticed."
I've had a couple in public too Kim, but I think they were voluntarily. Oh dear what to think, what to say…?
huffpo: Eighteen woman with PGAD were included in a 2008 study about the condition. After conducting interviews and laboratory and imaging studies, researchers determined that the majority of women experienced PGAD during early menopause without pre-existing psychiatric disorders and laboratory abnormalities. The majority also reported restless genital syndrome and/or overactive bladder syndrome.
"PGAD–or as proposed by our group, restless genital syndrome (RGS) in the context of its strong association with restless legs–is probably the expression of a nonsexually driven hyperexcitability of the genitals and subsequent attempts to overcome it by genital manipulations," the researchers wrote. They suggest more research be conducted in order to develop its clinical management.
At present specialists are at a loss as to how to help cure Kim. Never mind all you folk out there who struggle to get off at least one orgasm every other year….