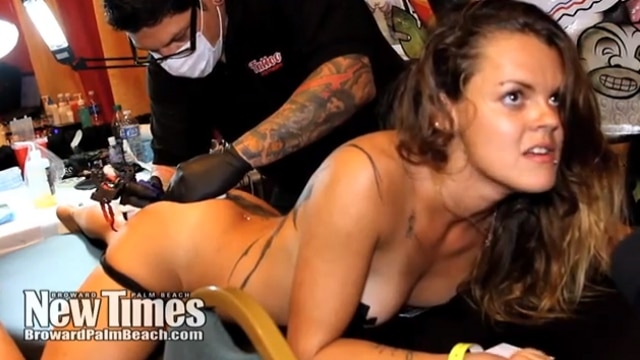 For those willing to try something daring and beyond the conventional may we suggest a sojourn with Louise Del Rosario who is the new proud owner of countless butt hole tattoos.
thefrisky: Earlier this week the world watched as 22-year-old Maria Louise Del Rosario screamed, "Dude, it feels so f**king good," as she got her boyfriend's name tattooed in her butthole. The video immediately went viral, receiving over 3 million views in three days. The Broward-Palm Beach New Times' music blog  County Grind tracked her down and got to know her better.
Feels fucking good because Maria is into poignant anal sensation, poignant anal tattoos or just simply poignant anal sex, not that I personally would have divulged too much from one to the other.
That said here are some highlights about Maria's new interview where she gets to talk about anal tattoos, anal sex and her time behind bars. She also wants to now get into modeling and write a book. About anal tattoos of course…
5. She just recently got out of jail for grand theft and dealing in stolen property.
"The guy who had me put in jail was named Rockwood. He hated seeing Vince's [tattoo there] when we had sex, so for his birthday I covered [Vince's anal tattoo] with 'Rockwood' because anyway if we broke up then 'I rock wood in my ass.'So we broke up and his mom put me in jail. She thinks I'm a whore from the streets. Her son used to steal all her jewelry and pawn it for drugs, so she manipulated the detectives into believing it was me. I was 21, I turned 22 in jail. The day I got out, her father passed away. I said, 'You fucked me over, and you lost your father the day I got my freedom back, he dies, that's karma.' I went to court over and over, and I finally got probation for 18 months to three years … Jail woke me up though."
'I rock wood in my ass.' Hmm, you don't say Maria. How very splendid of you…
6. Her jail nickname was "d**k s**t."
"We were all in one big room, full of bad bitches. I was showing them all my butt hole tattoo. One girl nicknamed me "d**k s**t." I still don't know what it means. On my birthday they even made me a card that said "'Fuck Hallmark, this is jailmark.'"
Translated means Maria is a preferred hawt bixch.
8. She considers herself a "beautiful disaster."
"I can be happy by myself with nothing. I don't need love or hate. Those are two evil things. Love can hurt you, and hate can hurt you. I'm just a beautiful disaster."
And who doesn't mind the occasional beautiful disaster in their lives? Just remember Maria can live without love or hate, but bixch can not live without her anal tattoos and of course your cxxk up her ass. Or is that me just projecting…?
go to the frisky to read more…