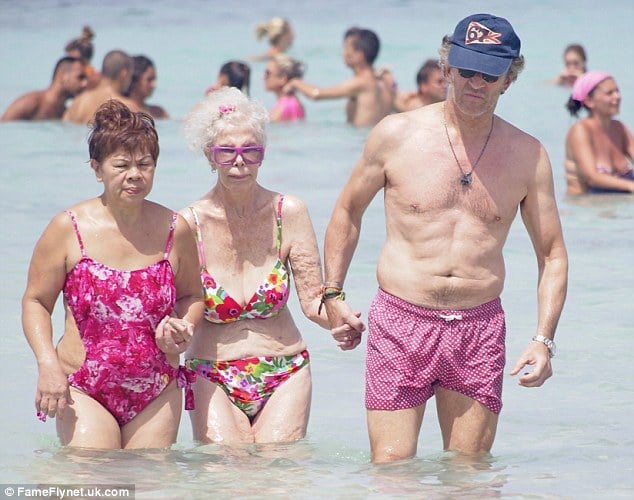 The duchess of Alba caused eyes to do kamikaze stunts as she and her hawt bixch du jour, 61 year old Alfonso Diez were spotted this weekend slumming it on the island of Formentera off the coast of Spain where the duchess is known to be a mainstay favorite.
There with her attendants, the duchess it is said cut a rather fetching appearance as she flamboyantly sashayed she sea shore with her paramours.
The duchess, a known 'eccentric' and billionaire (that's what they call you when your ass is loaded, otherwise crazy bixch will do just fine) who is said to have more titles than Queen Elizabeth ll did cause some dissent when she wed her hawt bixch Alfonso last October, but to her credit has since been able to win her supporters over as her toyboy has been increasingly accepted.
At the time of their marriage many questioned whether Alfonso was simply a gold digger, but to his credit the much younger hawt bixch has disavowed any claims to her £3billion fortune to the relief of the Duchess' 6 children.
The Duchess and Diez, a social security administration employee, are old acquaintances through her second husband, who was a former priest, and Diez's brother.
They bumped into each other about three years ago outside a cinema in Madrid and eventually started dating. How chic!
What do you think of Spain's June cover girl?