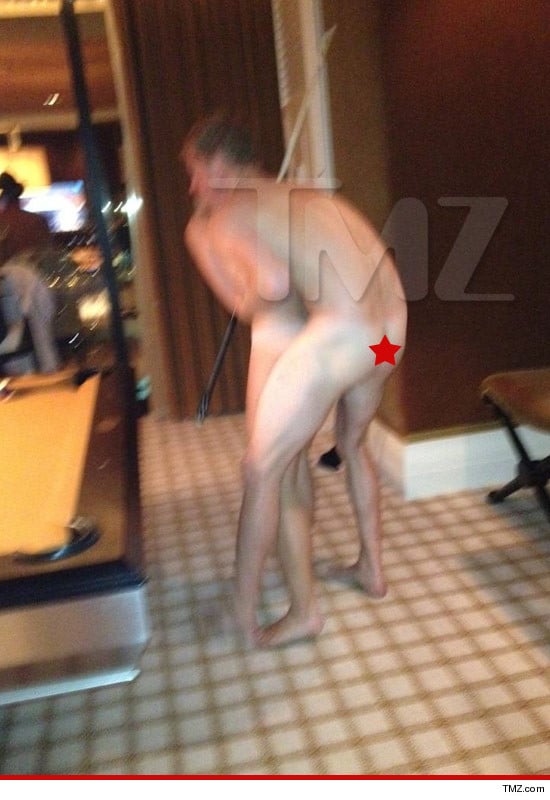 Naked Prince Harry. Don't expect him to suffer any punishment…
Prince Harry naked photos. Rehabilitating an out of control prince and the public's teetering love affair with the Royal family.
Naked Prince Harry now fleeing paparazzi…
Naked Prince Harry pictures all the rage at Las Vegas suite. Cupping his genitals…
Naked Prince Harry busted because of his very distinctive pendant.
Oh look! There's Prince Harry staring at a harem of bikini clad beauties at Las Vegas pool.
Prince Harry and Ryan Lochte get drunk together and race each other in Las Vegas pool at 3am….
The Queen will be having a quiet word with Prince Harry very very soon…
The Queen is not at all pleased with her cheeky (literally) grandson. What's a monarch to do with an heir that refuses to tow the party line.
Seems like Prince Harry has really gone and pissed off the royal family now with reports that the Queen herself is irate (but is she really?) at the release of the scandalous images which in her estimation have only served to belittle the royals and their improving public image. Until now that is…
The dailymail reports that the royal family has gone so far as to inhibit the British press (they are however powerless to stop US press) from publishing the naked images:
St James's Palace even went so far as to suggest it would be 'prurient' for the British media to use them although it admitted it was powerless to prevent US websites from publishing the shots.
And then there's this which really might have the house of Windsor in a spot of bother:
But the prince – and his Scotland Yard bodyguards – will be expected to explain just how he ended up partying naked with a group of 'hot chicks' he had apparently just met in his £5,100-a-night suite in the five-star Wynn Hotel and, more importantly, why they were allowed to film it.
Perhaps the short answer is Prince Harry wanted to be filmed as he is hardly a novice or naive as to his public status. Which leads to the question why? Does he himself really care about the royal family's public image, what it even stands for, or does he just simply have less idealistic notions of what it all entails to be royal. Then again why should we care about royalty in the first place when in essence it's an expense borne by the taxpayer to prop an elitist clan…?