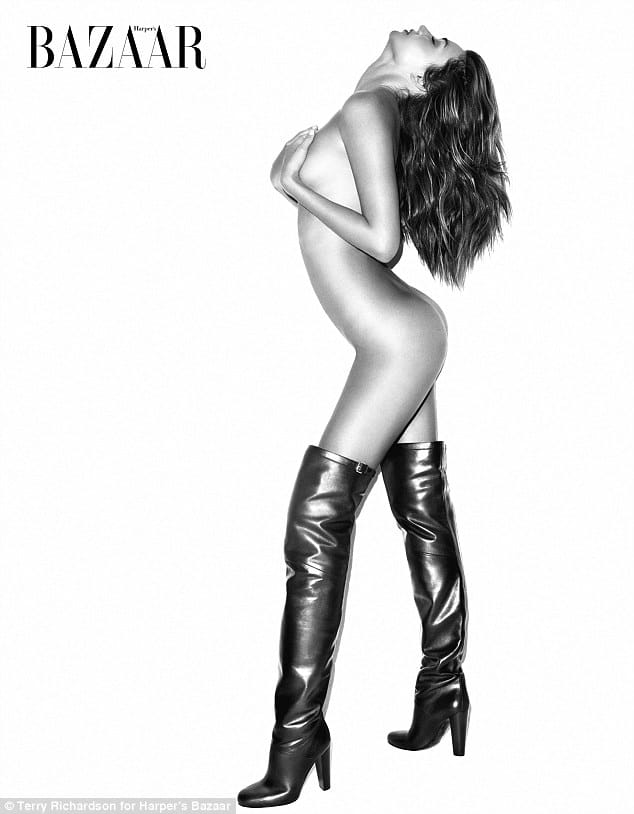 She may have banned naked pictures of herself on the web (they still got out and you can see them here) but it seems Miranda Kerr is hardly shy when it comes to displaying her finer assets in the buff that is.
Appearing for Harper's Bazaar wearing nothing but a pair of thigh-high leather boots. Which frankly is just fine by most of Miranda's fans.
Photographed by Terry Richardson, the model cuts a striking pose as she arches her back and neck in a vicious s shape that shows why she's one of the most adulated models currently working.
In the upcoming September Harper's Bazaar issue the model shared her exercise and diet tips (but will you listen?) which help her stay in nimble shape.
Known for her extremely healthy eating habits and love for all things organic, the model offers that being a mother has made her even more aware of nutrition.
'I live by the philosophy that beauty starts from within and I make a conscious effort to fill my body with nutrients through the food I eat,' she says.
'Becoming a mother has made me even more aware and more passionate about nutrition and wellness. 
'So much so that I am now a certified health coach practitioner. I love when we are all together as a family and I can cook really healthy, delicious meals for them. 
'Most of my childhood was spent outdoors climbing trees, swimming in the river, riding dirt bikes and horses and I would like Flynn to experience all of those things.'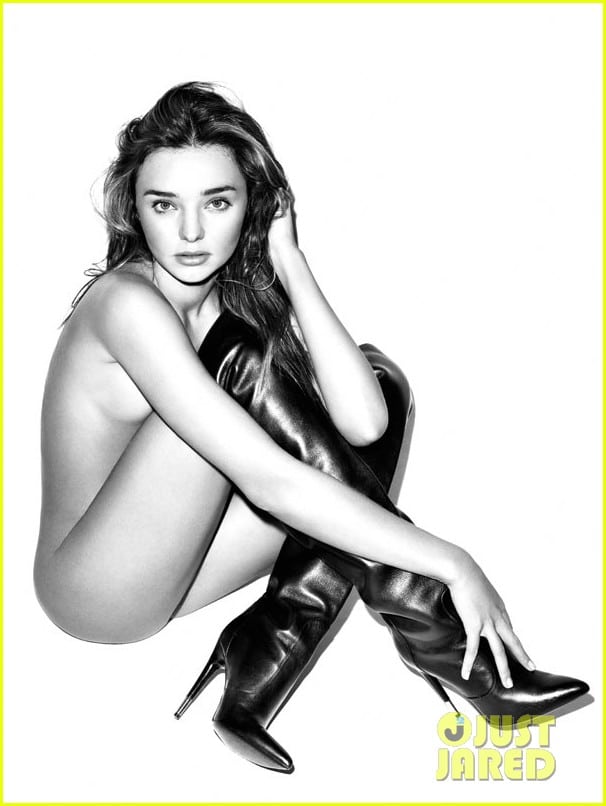 And if she only had half an hour to spare what would she spend it on?
'Yoga is at the core of my health and wellness routine, even if it's only for 10 to 15 minutes I find it helps me to re-center and to focus as well as improve my overall core strength,' she says.
'Then I'll do a few extra squats for my butt and thighs.'
Then there are Miranda's diet tips:
'Rather than diet my family instilled in me a real appreciation and passion for good health and organic living. I adopt the 80/20 rule. 80% good, 20% indulgent and that works for me and my body personally. I love food and enjoy eating fresh organic produce.
'I drink warm water and lemon every morning and I also drink lots of good quality purified and preferably alkaline water throughout the day. 
'My Nan introduced me to Noni juice when I was twelve years old, which I drink twice daily. I treat myself occasionally and don't have any guilt or conditions placed on it. 
'Food is my friend and consistency is the key. I believe that everything in moderation is best.'
Never mind. Whether you will follow Miranda's regiment or not, one thing is for sure. The Aussie model certainly has got it and she isn't about to give it away either. But then again she's a natural born beauty who's wise enough to realize health, body and sound state of mind go a long way to a beautiful you.
Miranda Kerr nude as naked pictures of her leak. Art form vs erotic?
Victoria's Secret Miranda Kerr would like to tantalize you in her new topless video.