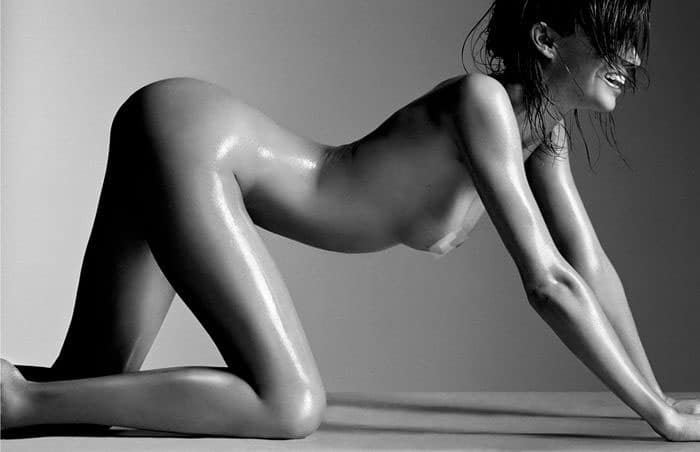 Why all the scandal? Despite the commotion about the model Miranda Kerr being naked in the following images most of us can agree that the pictures are a tasteful reproduction of her fine form….
Miranda Kerr in racy lingerie or itty bitty bikini are par for the course. Not so images of the supermodel in the complete buff. Until now that is.
The images as taken by French fashion photographer, Laurent Darmon have now surfaces online (who wants to be that Darmont or one of his agents leaked this shit?).
Offers huffpo: It's unclear when Kerr posed naked for Darmon as the photos are of unknown vintage, according to Jezebel. The photos were posted on Darmon's website but were quickly taken down, reported Jezebel.
The Victoria's Secret Angel has posed naked before for GQ magazine, the 2010 Pirelli calendar (NSFW) and while pregnant for W (NSFW).
Unlike naked photos of celebrities which are usually hacked from phones, naked photos of supermodels tend to surface from photo shoots the model did before she became uber-famous.
But here's what one commentator had to say:
But I do understand the word "scandal" for what it really is. It is the Fox News trick. Bill O'Reilly will report on a "scandal" with "shocking" photos and videos of something he wants himself and the viewers to leer at.
It's pretty pictures ni a high brow art/fashion photography magazine. There is no need to invent something out of nothing. Or to oversexualize and sensationalize it.
It turns out that the photos were actually from a photo shoot in 2009, according to Triple M 104.9. What's surprising is that until recently they stayed off the web for so long.
Leaked or not, scandalous or not, enjoy the sights….more nakes photos of Miranda can also be found here: Fashion Copious
Victoria's Secret Miranda Kerr would like to tantalize you in her new topless video.