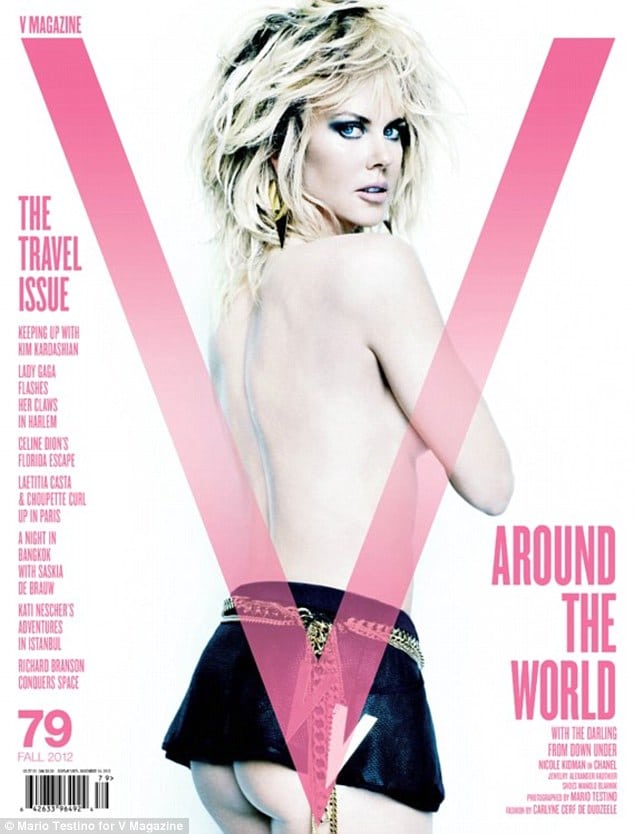 Nicole Kidman would like to remind you that it's time to pay attention to her once again…
45 year old Australian actress Nicole Kidman must have felt a little too left out of all the latest celebrity high jinks which has seen her being sidelined by Hollywood heart throb affairs, her ex Tom Cruise being sidelined by Katie Holmes and of course the embarrassing shenanigans of Prince Harry our new and upcoming hawt bixch du jour.
That then might explain the actresses' latest risque magazine cover in which she is seen up rearing her ass in quite the suggestive provocative pose that will have you wondering as Kate's eyes sear yours for any reaction.
As shot by fashionista Mario Testino (how does the Queen manage to be so prolific?), the photoshoot is said to have happened just in time to champion the actresses' (didn't I tell you bixches) new upcoming film 'Media Whore Just for you,' 'The Paperboy,' which is slated for a limited release in the US on October 5.
As interviewed by V magazine, the actress reflects on the ardour of being famous, a mother and of course a hell raising actress.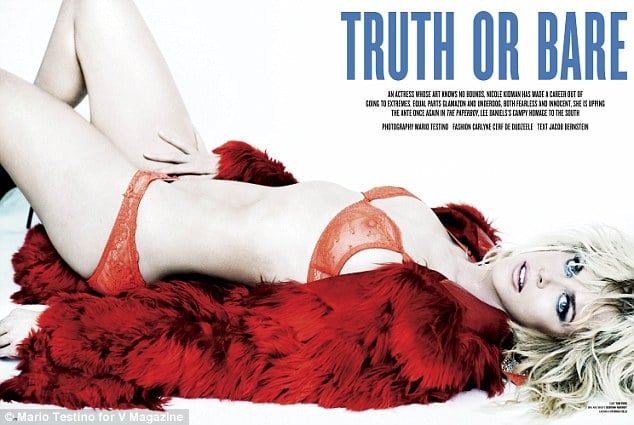 Offers the actress surprisingly (cause you know bixch is lying through her teeth):
'I don't really make decisions. I go with the flow. If I were a strategically minded person, I think I would have a far different career.
'But I would be more outlandish if I could. A lot of times you just don't get the chance.'
Never mind isn't it time you also bought yourself a copy of this month's airbrushed regalia of a bygone Hollywood actress who is resorting to pony tricks to reignite her sagging career. Then again Nicole does have a nice ass…