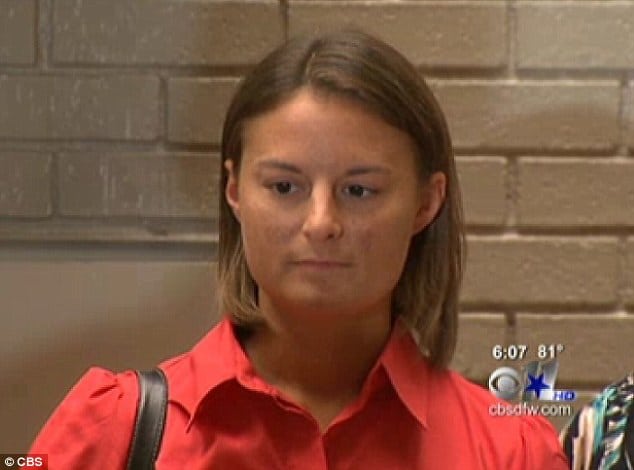 Update: A Texas courtroom has found former Kennedale High School teacher Brittni Colleps for having sex with 5 students, the gravest charge being that she broke a  school contract that she would not sexually engage with any of her students who were all 18 and older at the time of the incident. Sentencing is to be issued later this afternoon.
Brittni Colleps, a 28 year old former high school teacher at Kennedale High School in Ft Worth, Texas and mother of three, faces up to 20 years in prison pursuant to allegations that she had sex with as many as 4 of her students and that one of them filmed it with her willful consent.
The incident said to have happened in the Spring of 2010, involved 5 students with the school teacher at one stage engaging one student with up to as many as 100 texts in a single day.
In recalling the incident, one of the students recalled that he had had sex with Colleps 5 times , four of which involved more than one student. The student told of one evening where he and three other students had sex whilst another filmed the incident. That film was eventually shown to the jury as evidence with a disconcerted Collips looking uncomfortably away.It is understood that earlier that evening the teacher had put on a lingerie show for her male guests.
Although the students were all over the age of 18 at the time, Texas law protects students from a relationship with someone in a superior position.
The affairs are said to have begun innocently enough with Colleps poking one of the students on facebook, whilst another testified Colleps engaged them via text a number of times before a rendezvous led to sex between them. The texting also included the teacher sending numerous nude images of herself as well as a video of her using a sex toy.
Reports the dailymail: She has plead not guilty and faces up to 20 years in jail if convicted as well as a $10,000 fine on each of five charges of an improper relationship between an educator and student.

Her husband Christopher Colleps is a soldier stationed at Louisiana's Fort Polk. He is allegedly standing by his wife.
Such are the affairs of teachers who may or may not be getting increasingly aroused by the status of their position in relation to young men and the demeaning behavior that they exhibit towards them when common sense, courtesy and respect for the young men who ought to be looking up to you, not being abused by you. Then again nothing could be more humiliating and abusive than an authority figure using the promise of sex to usurp her authority on vulnerable impression students. Or to put it another way, had Colleps been a man, the media would of already had a noose over their head. For the time being Colleps will insist that the incident never took place despite video evidence to the contrary…