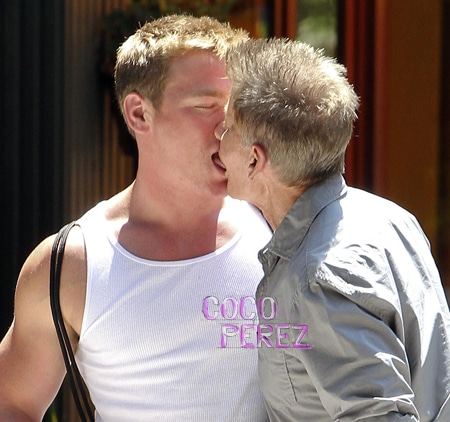 It seems drug rehab may have had a change of heart on Nick Gruber, Calvin Klein's on and off toy boy who was seen making out with erotic model Chelsea Heath on a Los Angeles beach.
The photos (which you can see here) depict a raunchy Gruber getting it on with former Girls gone wild hottest girl in America star Chelsea Heath. Yes tongues are locked and them bixches are even holding hands as if their life depended upon it. Dear us, what could Calvin Klein be kill them mother fuxker bixches thinking?
Although Klein and Gruber are said to no longer be romantically involved, it is thought that the designer footed Gruber's $35 000 a month stint at the Meadows clinic in Arizona as well as his private jet transfer (who knew Calvin could be so generous kids?). According to Klein, he was at the time concerned the young porn actor would be tempted to drink on a commercial airliner. It does seem for now, that young Nick has found himself,ahem, new temptations….
Calvin Klein toy boy busted for coke and assaulting 20 year old fling.
Are these two hawt bixches no longer dating? Seen having dinner last night…Calvin Klein and his porn boy Nick Gruber.
Nick Gruber has a message for playgirl: 'Go fxck yourself!'