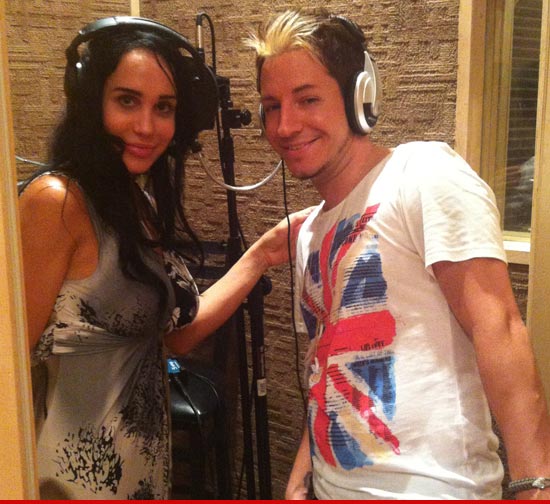 Kids it looks like Octomom is on a roll. Having recently gone from porn masturbator, stripper, and now homeless (well one supposes she and her brood of 14 can now move in with her new hawt bixch Frankie G) Octomom Nadya Suleman is now according to ambitious music executives also now set to become a pop star too now!
Having just signed a record deal with Global Groove Entertainment (see what a porn career can do for you after all?) the seductress is set to cut a dance track called 'Get on the dance floor,' that will feature Octomom both singing and rapping. Bon chic!
TMZ reports that the song is being produced by DJ Mr Mig and Mike Rizzo, whose recording resume includes having worked with the likes of Britney Spears, Usher, Beyonce and Taylor Swift which makes us feel that Octomom is in very safe hands.
In fact so inspired was Octomom with her imminent career as a pop star, insiders have revealed that the media whore took two whole voice lessons before getting down and cranking her sure fire big hit. Expect Octomom's smash hit to come out August 1st.
Don't you wish you were this talented too? Unless of course you already are….
Graphic: Octomom wants to show you her surgically enhanced 'porn' vagina.
Octomom and her boyfriend Frankie G go on a private date.
Please bixch! Virgin America insist it was Octomom making a scene and not the other way round.
Octomom bullied by Virgin America Flight crew. 'Them bixches had a personal vendetta against me!'
Octomom now has a boyfriend. Met the bixch at church.
Video: Octomom achieves multiple fake orgasms on the Howard Stern show.
Graphic: Octomom Nadya Suleman porn tease trailer and pictures have finally arrived.
Breaking: Octomom's house goes to foreclosure, landlord says good riddance!
Oh my! Octomom Nadya Suleman now stars in new bikini pictorial.
Graphic: Octomom Nadya Suleman naked porn pictures released.
Octomom backs out of topless strip club gig after threats.
Octomom debuts in porno masturbation flick. Nothing but the rent…
Octomom Is Back And Nearly Naked.
Octomom forced to Whip Man Wearing Diaper and Baby Bonnet in Fetish Video to feed kids.
Octomom Nadya Suleman Refuses $500,000 to Star in an Adult Film Despite Financial Woes