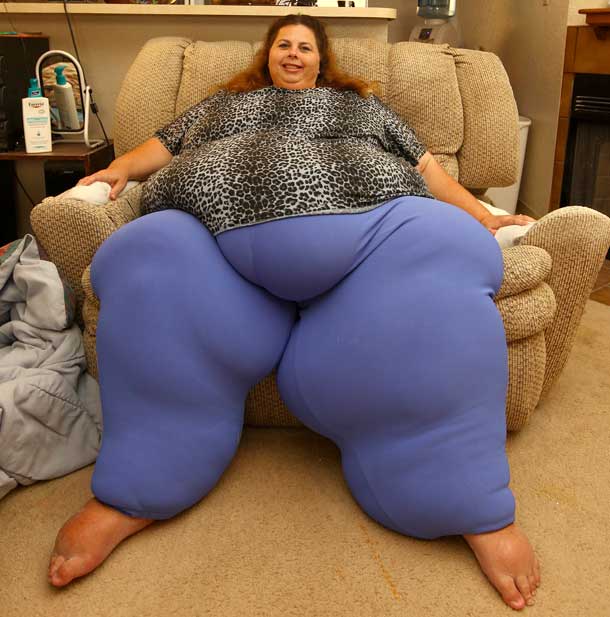 Kids have you ever thought about going on a diet or eating lots of cabbage and lettuce in an effort to shed unwanted pounds? Don't even contemplate it. Pauline Potter of Sacramento, California will momentarily explain how she is well on her way of shedding of amazing gabs of weight. Go grab your sex toy/partner and follow this way…
closeronline.co.uk: When she  earned the title of World's Fattest Woman last year, Pauline Potter hit rock bottom.
Back then, the bedridden 52st mum – whose legs weigh over 10st each – entered the Guinness Book Of Records to shame herself into dieting, but instead her 10,000 calorie-a-day diet escalated.
Shockingly, she couldn't stand and relied on her son, Dillion, 19, to take her to the toilet. 
Oh dear kids. And you thought you had it rough. But then one day fortune or to be exact, Pauline's ex came knocking on the door:
But when her ex-husband Alex saw Pauline's record-breaking entry, he visited for the first time in three years – and, incredibly, despite Pauline's size, reignited their sex life. They now make love up to seven times in one day, despite 10st Alex risking suffocation if Pauline gets on top.
I have to stop there for a moment. Personally I'm adverse to making love to anyone bigger than me (and I'm over 220 pounds) but that of course shouldn't stop the compassionate and the horny amongst you when you feel the urge to explore…
And she says their sex sessions are helping her slim. She's lost 7st in seven months and, at 45st, can stand up again – but admits Alex does most of the work in the bedroom. She says: "I can't move much in bed, but I burn 500 calories a session – it's great exercise just jiggling around." 
Jiggling aside, Pauline still has a healthy appetite, but I reckon a good shag will always do that as she admits she's still partial to Big Macs, which can't be too bad when you've been out in the lumber yard chopping up the wood, to use an interesting metaphor.
What do you think kids, is there an ex lover out there who you can call tonight and 'work' out some unresolved issues?
above image found here