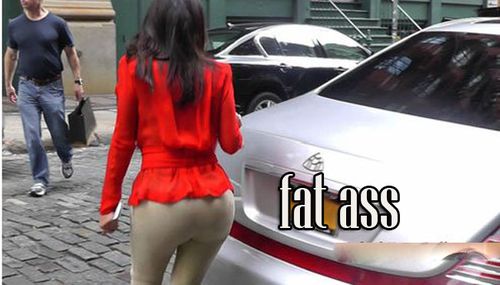 Really? Does Kim Kardashian's ass look too big here too?
If there's one thing we can say about Kim Kardashian is that bixch has got a predilection about getting her ass to magically protrude another inch or two every other weekend. The way some people care about their hair or nails is the same way Kim cares about her ass. She just rubs pounds of lotion and the usual good shit and poof bixch just gets a new ass that looks more spiffier than the weekend before that.
Of course that may be good for all you ass men out there (and I know you bixches sniff that shit out, oh god that didn't come out too well did it?) but it might be a bit of an issue to all those jean and trouser manufacturers who are probably resigned to the fact that they are going to have to come out with a new limited edition in the near future: 'Kim Kardashian ass.'
go here for tmz's video of Kim Kardashian's newer and more fantastic ass as she was seen trolling in NYC yesterday.