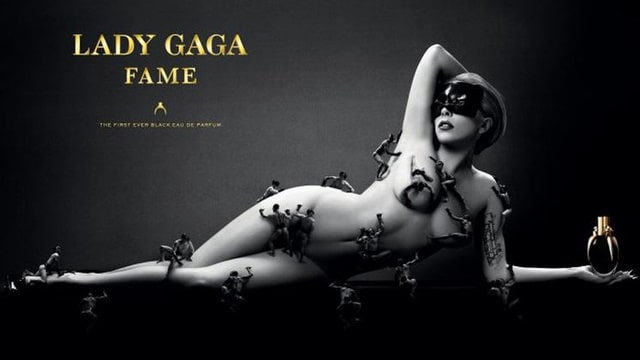 Isn't it time you smelled like an expensive hooker too?
Lady Gaga never needs introductions. All she ever needs is your active eyeballs to judge for itself…
In time for the launch of her new fragrance (yes see all the money making opportunities waiting for your ass when you finally make it as rich and famous), Lady Gaga has come out with a tre provocative treat for us to feast on.
As shot by Steven Klein, Lady Gaga's new fragrance simply titled 'fame' (I would added the suffix 'whore' at the end to give the fragrance the zingy scent it aspires to be) features our collective wet dream in the raw bespeckled by an avalanche of tiny, muscular men in designer jock straps who are climbing her body (yes kids, let this be a lesson, if you ever intend to climb a woman's body designer jock straps are the preferred apropos).
Said our heroine:
'It was taken out of my own blood sample so it's a sense of having me on your skin,' she said.
'I wanted to extract sort of the feeling and sense of blood and semen from molecular structures, so that's where [the rumours] came from. 
'That is in the perfume but it doesn't smell like that,' she confirmed. 
'Actually the perfume smells like an expensive hooker.'
Hmm. Expensive hooker? That might explain my latest cash crunch. Never mind I'll just have to go back to resorting to the cheap hookers on the Westside highway and of course healthily dabbing my bitter self with a hint of Lady Gaga's 'Fame.'
Don't you wish you were a fame whore too? I know I do…
Lady Gaga twitter: 'I'm completely wasted in this photo.'