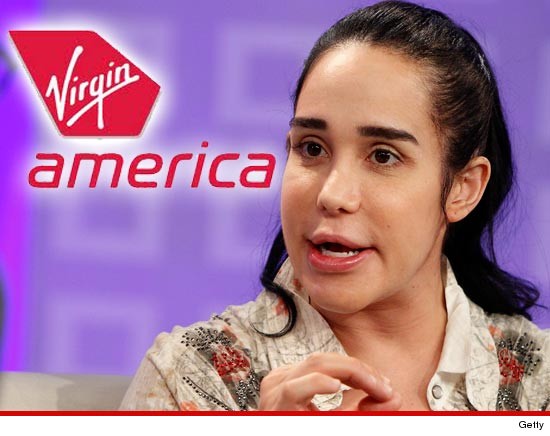 Octomom bullied by Virgin America Flight crew. 'Them bixches had a personal vendetta against me!'
That bixch is mad wack….
Either Octomom Nadya Suleman is making shit up or Virgin America are the best liars your ass ever came across.
Virgin America have come out tonight and insisted that they don't have a clue as to why Octomom has been mouthing off that staff were being rude to her and generally making a fool of her, especially since them bixches over at Virgin insist it was the other way around and it was Octomom (figures) that was trashing shit about and being a real general jerk off.
tmz: The rep adds, Octomom and her manager were difficult to deal with during the flight and, "Both guests had to be asked repeatedly to observe safety regulations."  
As for kicking Octo's manager out of the bathroom … Virgin claims she entered the restroom when the plane was landing — which isn't allowed. They asked her to get out because per FAA rules —  they would have to delay landing if she didn't.
Of course what Virgin don't get is that Octomom is the real mccoy and if Octomom needs to relieve herself or pour another pound of makeup before her pretty ass touches down then so be it, cause even Octomom understands the paparazzi are waiting for her and her ass has got to look semi photogenic to help sell the media whore illusion part and help her make some coin on the side. Geesh, shut up already Virgin America!
1800 OCTOMOM FREQUENT HAWT BIXCH
Octomom now has a boyfriend. Met the bixch at church.
Video: Octomom achieves multiple fake orgasms on the Howard Stern show.
Graphic: Octomom Nadya Suleman porn tease trailer and pictures have finally arrived.
Breaking: Octomom's house goes to foreclosure, landlord says good riddance!
Oh my! Octomom Nadya Suleman now stars in new bikini pictorial.
Graphic: Octomom Nadya Suleman naked porn pictures released.
Octomom backs out of topless strip club gig after threats.
Octomom debuts in porno masturbation flick. Nothing but the rent…
Octomom Is Back And Nearly Naked.
Octomom forced to Whip Man Wearing Diaper and Baby Bonnet in Fetish Video to feed kids.
Octomom Nadya Suleman Refuses $500,000 to Star in an Adult Film Despite Financial Woes