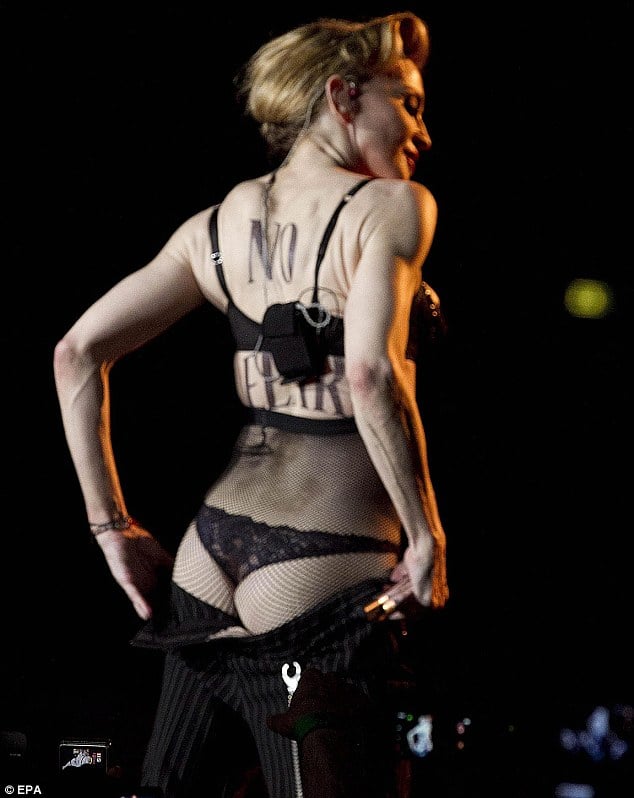 Madonna will not be silenced by the likes of you thank you very much!
In an effort to show who's boss and who's really running her game, Madonna the pop diva that we have all come to love and loathe (oh well…) shocked concert goers in Rome, Italy yesterday when she turned around and this time exposed her derriere.
Her newest stunt comes off the back of nagging criticism of the diva for having shown her breast whilst on stage in Instanbul. The range of criticism ranged from her being too old (so it would have been fine if she was 30 years younger?), too vulgar, or just plain disrespectful (then again isn't this what we have to come to love about Madonna in the first place?).
In fact it was during her song 'Human Nature' (how's that for a metaphor?), the same tune she slipped her nipple out last that Madonna unbuttoned her trousers, turned around and pulled them down to flashed her g string clad derriere.
It seems the controversy over Madonna's antics are hardly going to go away but then again how many performers who have been in the business for over 30 years could proudly say that? Congratulations Madonna you have once again single handedly ensured your relevancy, tasteful or not…
It's agreed! No one was impressed with Madonna's nipple stunt.