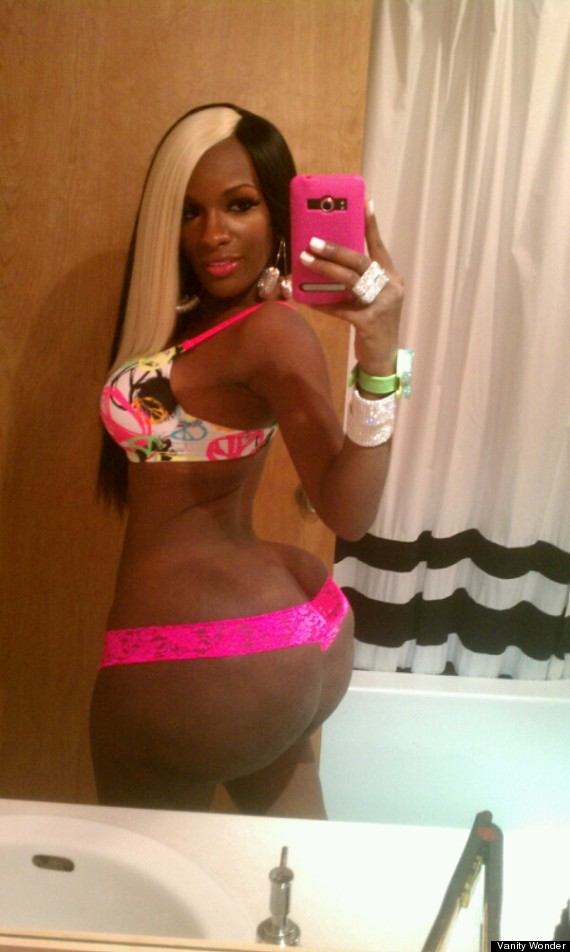 Vanity Wonder is the envy of all her friends and now they want to know how they can get butt injections too…
A 30 year old woman has gone public with her experiences of butt injections that have has led her to being the envy of many of her girlfriends. In her new book, shotgirl, Vanity Wonder hashes how she came across an underground cosmetics industry specifically designed for black girls, or to be succinct as she calls it, 'black market butt injections.'
Offers her blog Shot Girls which leads to where one can order her tell all book:
Commonly called "shots", "pumping" or "work", illegal butt injections are quickly on the rise and not just for strippers or women in the entertainment industry. Known for her jaw dropping 34-23-45 curves, Vanity tells no lies about how she obtained them. In this book, Vanity takes you on a gripping ride through her 16+ injection procedures, drug abuse and the lessons she learned along the way. Without a doubt this book will answer any questions you may have had about this procedure and satisfy your curiosity on the subject.
Asked what preempted her to write a book Vanity Wonder offers that she wanted to set the record straight as to what actually goes on in the world of illicit butt injections and how it's become a rampant market. Surprisingly Vanity Wonder insists the reason many woman seek the procedure isn't because they are trying to please a man or because they are deeply depressed but rather for a variety of reasons.'
'It's not even because they didn't already have a butt. They look in the mirror and they don't like what they see. They want the image they see in the mirror to match the image they have of themselves in their head.'
That said Vanity Wonder does warn about the pitfalls of seeking street operations and that the temptation to choose a much cheaper procedure has spawned some dangerous practices, practices that in the beginning that she too was taking risks as she didn't necessarily know what she was being injected with.
'The first two times, I was injected by a lady… when we finally asked her [what we were being injected with], she said soybean oil. So my first two times I had no idea what I was being injected with.
'All the rest were done by [a different] lady, and it was medical grade silicone.'
She says the difference in the two substances was huge. The silicone, she says, is 'a lot more moveable and jello-like. The 'soybean oil' made the treated areas 'stiff and hard'.
But even after a few procedures Vanity Wonder was still not pleased:
huffpo: Despite the pain and the cost, Wonder recalls feeling disappointed that no one had noticed any difference in her shape and decided to go back for more, lamenting: "I was still a popular nobody."
By March, she was hooked: "Competition is one hell of a drug. I felt like with me getting pumped I was going to have a 1 up, but not now. My competitive nature was revving up. Nobody likes to lose. "
As role models like Kim Kardashian,Beyonce and J-Lo flout their impressive booty (at the hands of cosmetics procedures?) women like Vanity Wonder are rushing to emulate the popular trend and also have themselves getting noticed. Something that one wonders ought not to be too hard once they have had a few of these procedures.
Despite the much publicized dangers of blackmarket operations and even highly publicized deaths as a consequence (Claudia Aderotimi) Vanity Wonder argues it's here to stay and women are going to pursue it one way or another and rather than dismissing it's better that we come clean with it.
For her part Vanity Wonder is thrilled with her appearances but one in inclined if this too is a fad or suggestive of a deep discontent of body image that women are being mercilessly exposed to in order to be deemed desirable in society. Time will tell how much of a trend butt injections become and whether women will continue risking their lives in order to attain heightened looks of beauty. Then again, sometimes the best beauty is what nature gave us, or maybe not…?
via dailymail.co.uk